We are happy to release the first Switzerland Marketing Technology Landscape Supergraphic.
This project has been initiated to extend the research of Scott Brinker Supergraphic and to build country marketing technology maps.
We believe that are still hidden gems and would like to promote product makers, startups, and marketing technology from Switzerland (and all around the world).
For the first edition of the Switzerland Marketing Technology Landscape Supergraphic, 50 solutions have been discovered. As a comparison, in the most popular slide in marketing, Martech 5000, only 17 swiss tools were listed.
66% of news tools discovered in the Switzerland Marketing Technology Landscape Supergraphic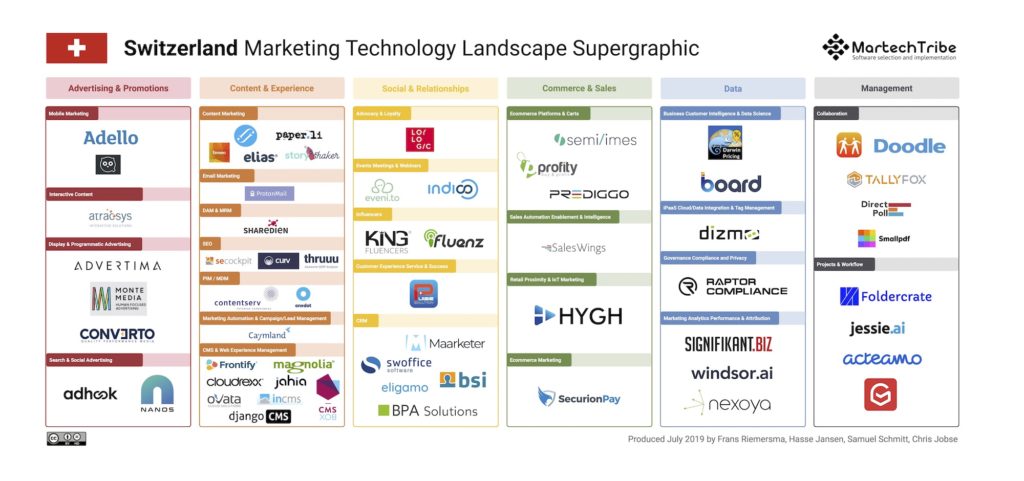 Visit this page to download a hi-res version of the landscape and discover more country Marketing Technology Landscape Supergraphics (Belgium, Italy, Netherlands, New Zealand, Spain).
Indeed, we found great marketing solutions in Switzerland, and if you look in the detail of the graphic, you will discover:
A company turning Gmail into a full productive suite for project management, marketing, and sales.
Many tools using Artificial Intelligence to make data-driven decisions faster or to automate digital content for your marketing.
The most famous tool for meeting planning or poll is Swiss-made (and it is generating more than 100'000 organic visitors per month to its website).
Many large and established software companies serving large enterprises.

If you are curious about the Swiss Marketing Landscape, here some interesting facts.
60% of growth for the last six years
Board is one of the oldest company from this map, and it was created in 1994. Until 2013, the increase was quite steady, with one new tool on the market every 1 or 2 years.
Since 2013, we can see an acceleration with several new tools every year. More than half of the Swiss marketing technology (30 tools), were created since then.
A key reason could be that Switzerland has seen an increase in invested capital in startups since 2014. And the marketing technology space has undoubtedly got some collaterals there.
Also, most of the Swiss incubators were created between 2010 and 2014. It could explain a sudden increase in the number of companies. They got better structure and support to develop and enable their growth.
Switzerland CMS Valley
CMS & Web Experience Management is the top category with six companies delivering a Content Management System (CMS).
In this category, you will find some of the oldest products from the Swiss landscape. Founded in the early 2000s, Django CMS, Jahia and Magnolia are serving enterprises and marketing professional for almost 20 years.
We could have added another company in the list of Swiss software, with Day Software, an enterprise content management software founded in 1993 in Basel. But it was acquired by the American company Adobe in 2010 for USD 240 million.
Day's iconic Communiqué WCM is now the core of the Adobe Experience Manager Platform, the leader of the Enterprise Content Management industry.
Former Day Software certainly played a crucial role in the development of other Swiss-made CMS.
Day Software, with his CTO David Nüscheler was involved from the beginning in the development of the Content Repository API for Java (JCR).
This technology (JCR) originated in Switzerland is the core component of several Swiss CMS such as Magnolia and Jahia, and also other international CMS or Marketing Technology vendors.
Zurich heading the landscape of marketing technology
Zurich is leading the martech space in Switzerland. The area of Zurich, including major cities such as Baden and Zug, holds 54% of the landscape.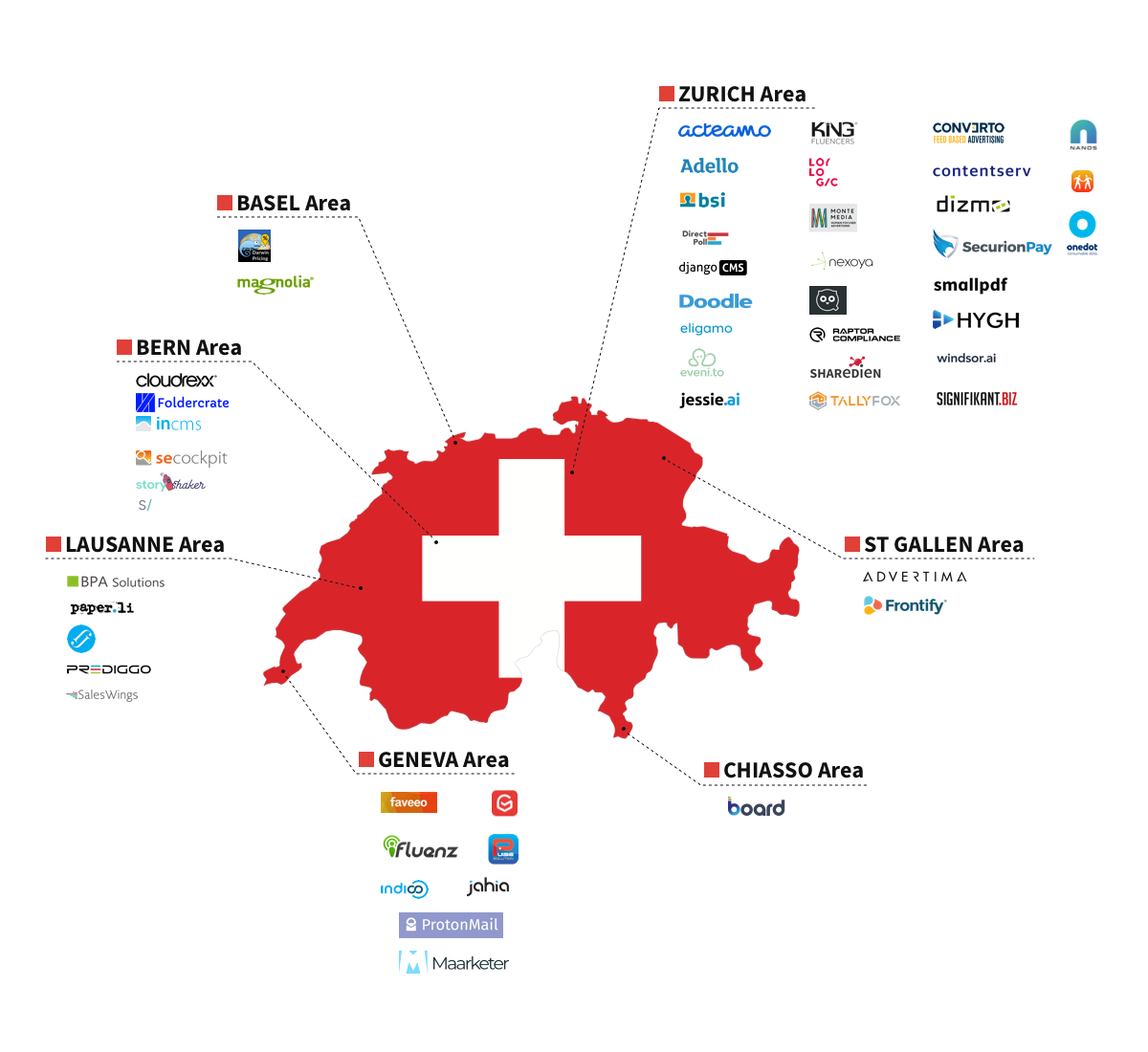 And this leadership is not stalling. Within the last three years, 90% of the marketing tools were founded in Zurich.
It could be explained again by significant growth both in terms of volume and number of investments in 2018 in this region of Switzerland.
A bit more than 500 million has been invested in this canton (province/state) and half of it for the ICT sector. (Source: https://www.startupticker.ch)
Outlook for 2019 and beyond
By looking at the current situation, it seems that all the lights are green. Switzerland is promoting innovation, and it will help new tools emerging.
Moreover, marketing professionals rely every day more and more on technology to help them get insights from all the data collected.
We can assume to see more and more marketing technology with an emphasis on advanced analytics, sales intelligence, artificial intelligence, and predictive modeling for marketing.
(Click infographic to enlarge.)

Special Thanks
Special thank to Frans Riemersma. Together with his team at MartechTribe who searched, browsed, and scraped the web to collect marketing tools and their corresponding country.
It was quite a ride, and it has defined the foundation of this work.
Also, Frans discovered talented marketing technology experts all around the world and set up a team to drive this project in different countries.
Here the list of country editors, leading the creation of new country marketing supergraphics.
Thanks to supporting these contributors in their quest for local tools.

Author: Samuel Schmitt