We are happy to release the Switzerland Marketing Technology Landscape Supergraphic for 2020.
This project has been initiated to extend the research of Scott Brinker Supergraphic and to build country marketing technology maps.
The first edition of the Switzerland Marketing Technology Landscape Supergraphic has been published in July 2019 and contained 50 marketing solutions.
For the second edition of the supergraphic a.k.a Swiss Martech 2020, 30 new marketing solutions have been found. The Swiss Marketing Landscape contains now 80 tools.
80 tools in the Switzerland Marketing Technology Landscape Supergraphic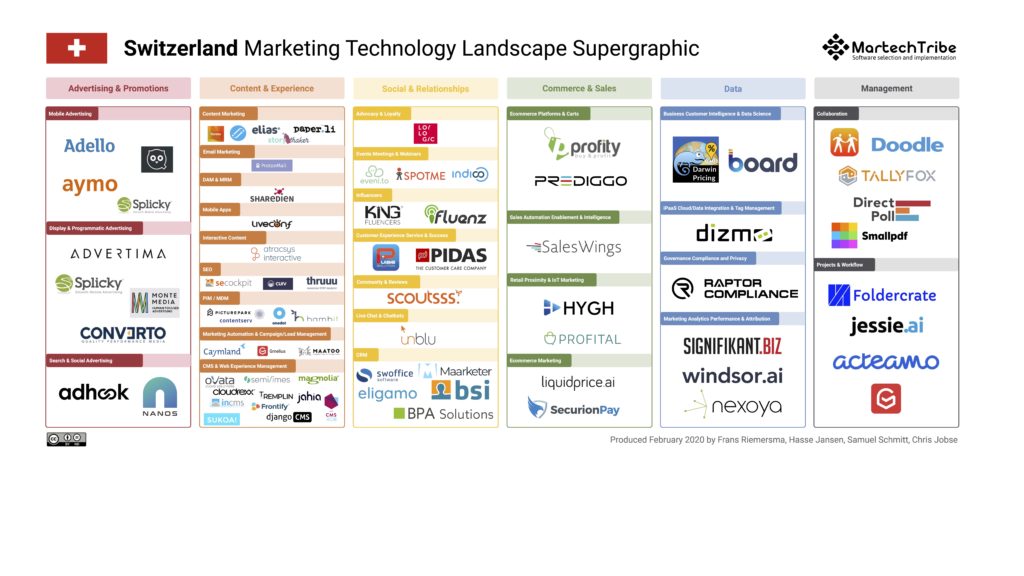 Visit this page to download a hi-res version the landscape.
What's new in 2020
We found great marketing solutions in Switzerland in 2020, and if you look in the detail of the graphic, you will discover:
And many other great tools. Have a look here and get an overview of some of the best marketing technologies from Switzerland.

Why 30 more tools?
You might be wondering how is it possible to grow from 50 marketing technologies to 80 in less than one year.
The reason is that when we initiated this project in Spring 2019, we only found 50 companies in Switzerland providing marketing tools. The 30 "new ones" did exist already.
Thanks to this initiative, people and companies contacted us and ask to be as well visible on the Landscape.
They are still missing tools, and new startups will flourish in 2020 and offer more solutions to marketing and sales teams. Expect to see more and more tools in the future.
The Switzerland Marketing Technology Landscape is another way for product makers to showcase their solution.
Building a Swiss-made marketing technology stack
In Switzerland, we count now 80 tools. Worldwide, the number of marketing technologies goes beyond 7'000.
Is it possible to manage the whole customer lifecycle from acquisition to retention with the martech from Switzerland?
The answer is yes; you can build a 100% Swiss-made marketing stack.
Based on your company strategy and your target audience, you might have to pick a different set of tool. Still, all the main categories of the supergraphics offer what you need:
Content and Experience: Set up the foundation of your content strategy and push your key messages to various channels.
Sales and Commerce: Manage your marketing and sales pipeline effectively.
Data and Optimization: Understand the performance of your campaigns and improve your actions.
Management: Align your teams with your processes.
I've tried this exercise and designed an inbound marketing stack only made of Swiss marketing technologies.
Below you can see the final result, and for more detail, here you can see how to attract, engage and delight with swiss-made tools.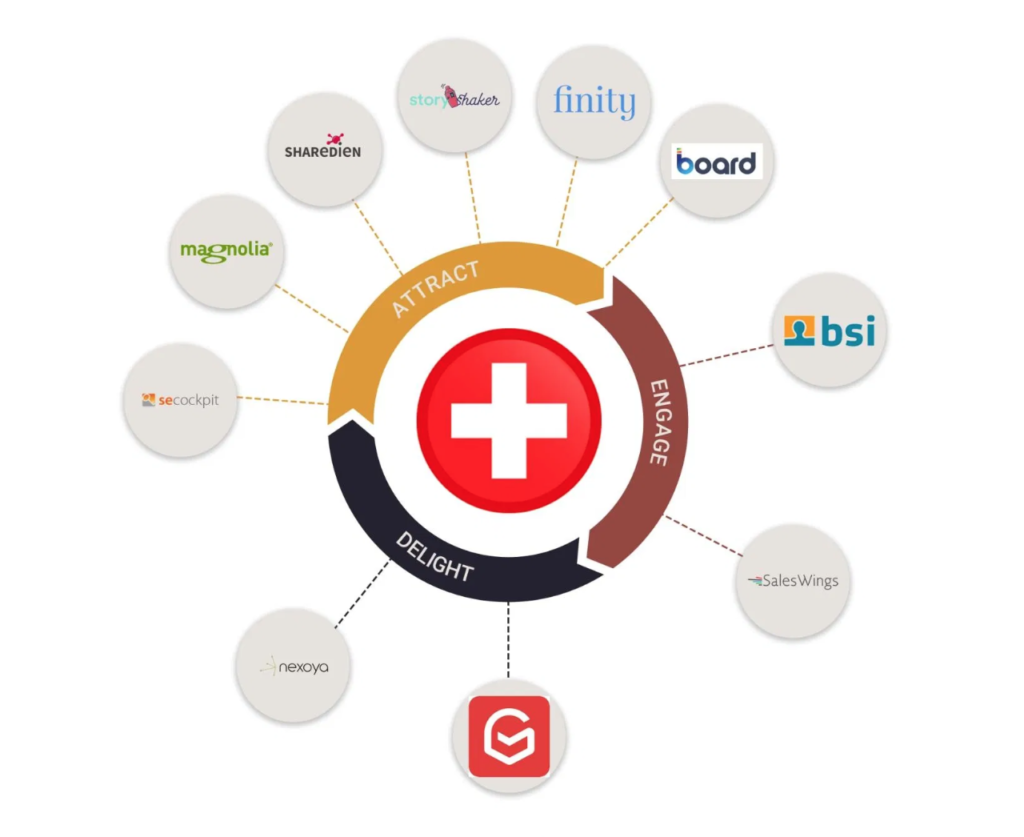 Special Thanks
Special thank to Frans Riemersma. Together with his team at MartechTribe who searched, browsed, and scraped the web to collect marketing tools and their corresponding country.
It was quite a ride, and it has defined the foundation of this work.

Author: Samuel Schmitt