What is Gmelius?
Gmelius transforms your Gmail inbox into your team's workspace.
Easily installed as a freemium extension, Gmelius is available for Google Chrome, Safari, Brave, and Opera – as well as mobile apps for iOS and Android.
Once you install Gmelius, your inbox is empowered with tools for team collaboration and workflow automation.
Think of Gmelius as your best team player, the one who gives managers clear visibility, makes sure projects are on track, clients are happy, and gives your team the flexibility to collaborate and do their best work.
Key Benefits & Features
The main benefit that Gmelius provides is the ability to collaborate with your team in real-time and automate your workflows – without having to leave your inbox.
Most work-related tasks begin with email. And we believe you shouldn't have to leave where work starts to get work finished.
With Gmelius, you no longer have to manage multiple solutions like helpdesk software, project management tools, and team chat platforms.
The combination of Gmelius features works together to complete your team's workflow.
Shared Inbox
Teams are able to manage group emails like sales@ and support@, from their own respective inboxes.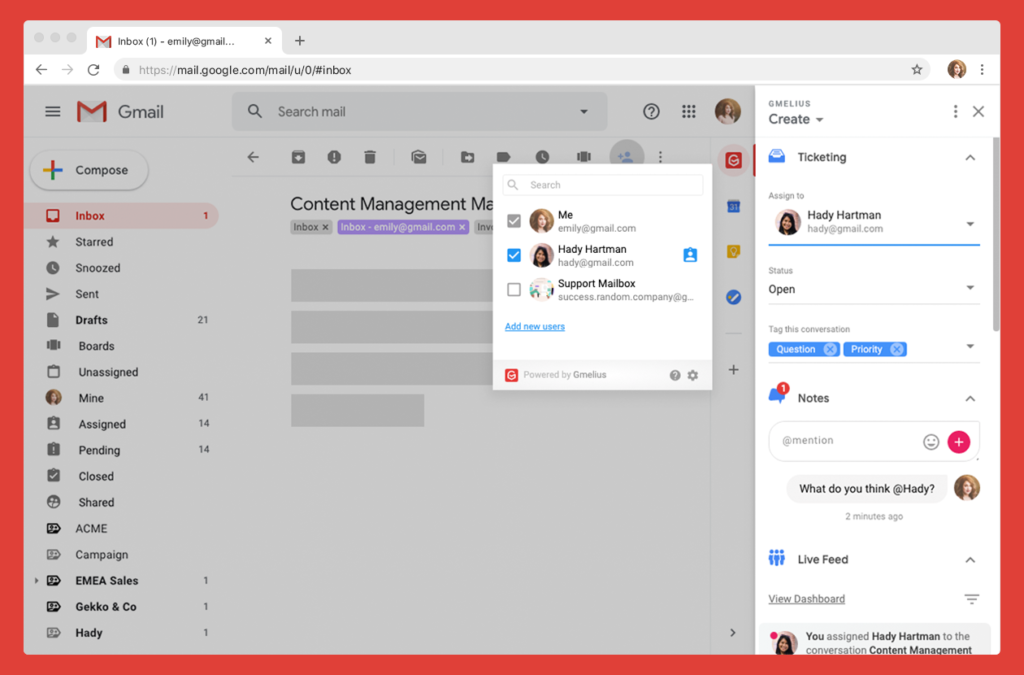 Clients are served help desk ticketing style directly from your Gmail inbox. No more missed opportunities or colliding emails. And finally, no more CC's and Forwarding emails that clutter your inbox.
Shared Gmail labels
Use Gmail labels to organize conversations by client or project name.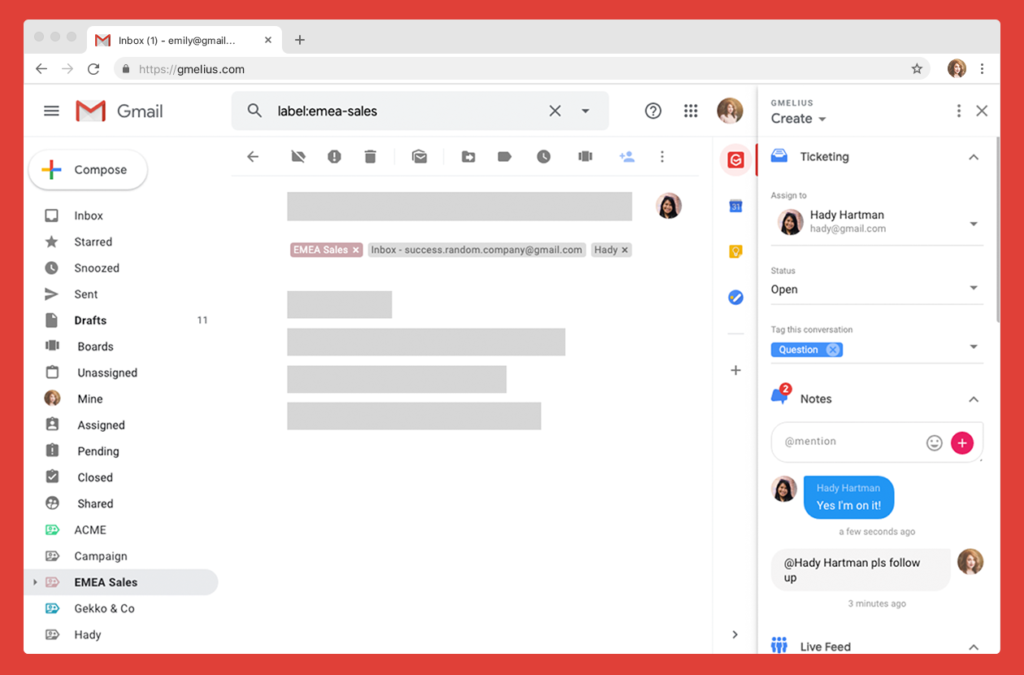 Share those labels with your team and delegate emails for clear accountability. Add private email notes to yourself or @mention team members, to collaborate behind the scenes.
Shareable Project Boards
Turn emails into task cards and add them to your Trello-like project boards with just a few clicks.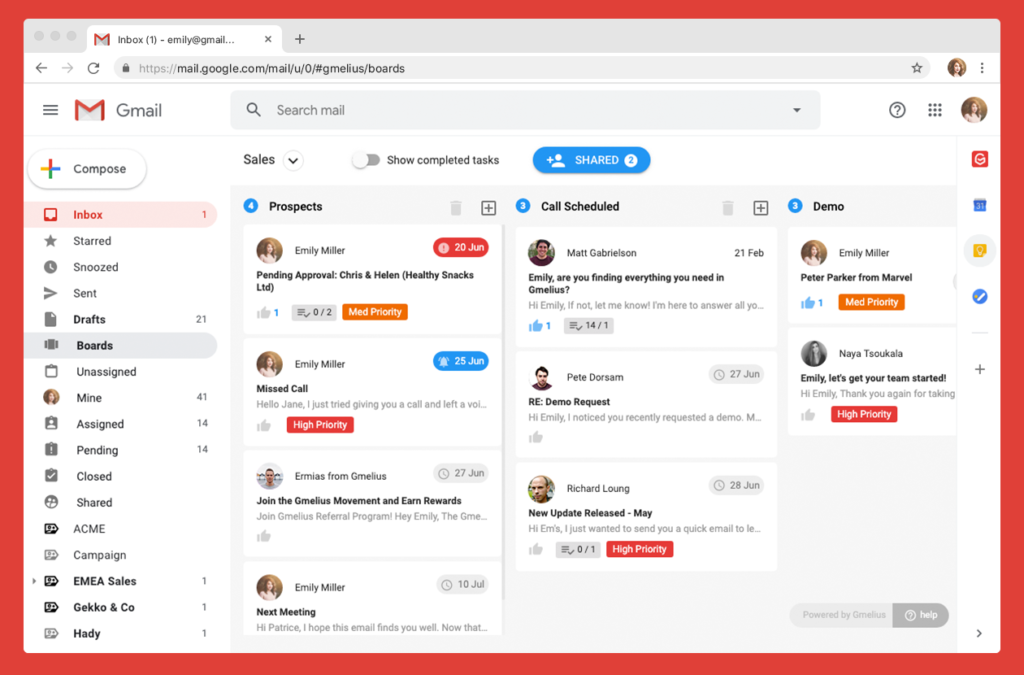 Gmelius boards allow your team to manage client and project pipelines, with clear visibility at every stage, and without leaving their inbox.
Shareable Sequences
Automate your team's workflows: from sales and project automation, to email management, and even internal admin tasks.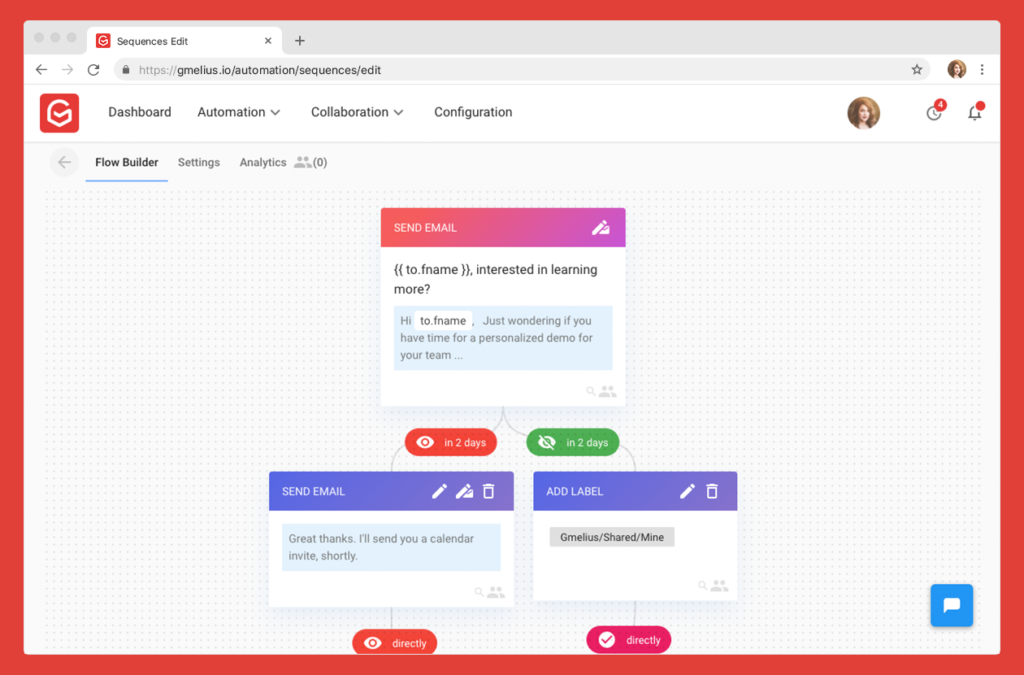 Gmelius Sequences allow you to "If this – Then that" your workflows. Imagine creating an email campaign with custom responses according to your recipients reactions.
Now imagine connecting that sequence to internal workflows. For example, "If client doesn't reply to your email in a certain amount of time, send a follow-up email." "If client does reply, turn the email into a task card, add it to your project board, and assign it to a specific team member."
And once you craft the perfect sequence you can easily share it with your team.
Your team's workspace
The possibilities are endless as you combine Gmelius features into a custom work-stack for your team.
Marketing:
Automated email flows integrated with internal workflows
Personalized email campaigns (drip mail merge) directly from Gmail
Detailed reports and analytics
Project boards
Sales:
Help Desk / ticketing solution
Team activity reports
Pre Written email templates
Recurring emails
Automated email flows
Sales funnel visualization
What else is coming from Gmelius?
Coming features: Slack integration, new & improved project boards, meeting schedulers, and multiple integrations.
Roadmap: Check out Gmelius' interactive roadmap. Your input counts as we build our solution to serve you and your team.
Who are Gmelius Users?
Gmelius users are teams managing multiple departments and projects. Our 150,000+ users come from a wide range of SME's including: IT companies, Accounting and Legal Firms, Sales teams, Architects, Engineers, and more.
What they have in common is they use Gmail or G Suite as their email client and they need to collaborate with their teams in real-time, within the distraction-free workspace of their email inbox.
Gmelius solves many of the common pain points suffered by teams by allowing them to:
Manage projects and clients directly from their inbox.
Get rid of multiple tools like help desk software, project boards, and team chat.
Keep the entire team on the same page with clear visibility and accountability.
Collaborate with their team in real-time, with everything synced across all team members and all their devices.
Just a few of the ways Gmelius is being used:
Gmelius has 5-star ratings across the most popular review sites that compare tools for team collaboration and workflow automation. G2C & Chrome Webstore are just two, with many more easily found with a Google search.

How to Get Started with Gmelius?
Your team is two steps away from collaborating in real-time and automating workflows without leaving their inbox.

Complete Onboarding
Gmelius is installed in just a few clicks, and the newly designed onboarding takes you through a step-by-step demo of the main features. Within 15 minutes your team is up and running.
Gmelius lives in Gmail, so if your team is using Gmail or G Suite, it will be an intuitive solution. Within one day of installing Gmelius, your team will wonder how they ever managed their communications and workflows without it.
Our users have constant access to the Gmelius help center, filled with step-by-step guides, video-tutorials, and a FAQ section. In addition, users have 24/7 access to a live chat with our support department.
Gmelius Pricing – Try it for free!
Gmelius is a freemium SaaS solution, meaning it's free to use but certain features are limited.
Pricing plan includes two paid tiers with monthly and discounted options for yearly payments.
Gmelius Plans:
Free – for small teams to be more productive.
Plus – € 8 monthly: for teams to collaborate and simplify teamwork.
Growth – € 18 monthly: for growing companies to automate their workflows.
Get Started with Gmelius
Contact Gmelius today and empower your team to do their best work. For larger teams managing multiple departments and projects, book a demo directly with our VP of Sales.