What is adhook.io?
adhook.io is a cross-channel advertising platform that helps marketers to be successful in search & social advertising.
To do so, adhook.io consolidates campaign management of the most used search & social ad networks into one platform. Our chat-based software acts as a virtual employee that assists in campaign creation, reporting, and optimization.
We are a Swiss Startup based in Lucerne, supported by the Lucerne University of Applied Sciences and Google as part of their "Channel Sales Acceleration Program".
The need for cross-channel advertising
Quickly searched for something on Google, switched to the Twitter timeline and watched a video on Instagram. The cross-channel use of digital content is natural today and happens every minute. As this is natural for us as users, it is important for businesses and brands.
Cross-channel advertising allows you to be present with ads at the right time where your target audience is moving.
Specifically, this refers to the delivery of paid content on different devices and different channels such as social media, search or display.
The goal of cross-channel advertising is to enable your audience across channels to move deeper into the acquisition funnel towards "buying" your product or service.
Why adhook.io?
Once your campaigns are active across multiple channels, it takes more time to get an overview and update the campaigns for optimization purposes. Where did I get the results yesterday? What costs have been incurred? Is there room for improvement?
To keep you on track, we created adhook.io. Our self-service platform brings the following key benefits into your daily work:
Simplified campaign management for Google Ads, Facebook Ads, LinkedIn Ads and Twitter Ads.
Improved campaign performance by automated optimizations.
More effective team collaboration thanks to individual process automation (e.g. campaign review).
Custom enterprise integrations using the adhook.io API.
Getting started
As a virtual assistant, adhook.io works with your ad accounts. The start is really simple:
Register yourself for a full-featured free trial of 14 days.
Connect your existing ad accounts or create new ad accounts directly in adhook.io (account creation only for Google Ads).
Import existing campaigns if you like to do so.
You're ready to start!
Check out our "how it works" video to see adhook.io in action.
Cross-channel campaign creation
New campaigns can be created in our chat or by using the full-featured creation process. Depending on the goal of your campaign, adhook.io hooks in different steps and suggestions.
In general, adhook.io supports the creation of following campaign objectives across the corresponding channels:
Traffic: Bring more people to your website.
Engagement: Increase the interaction with your content.
Video views: Increase the range of your videos.
Conversions: Encourage people to perform specific actions on your website.
Retargeting: Show ads to people who have visited your website.
Shopping: Market products from your online store (Google Shopping only)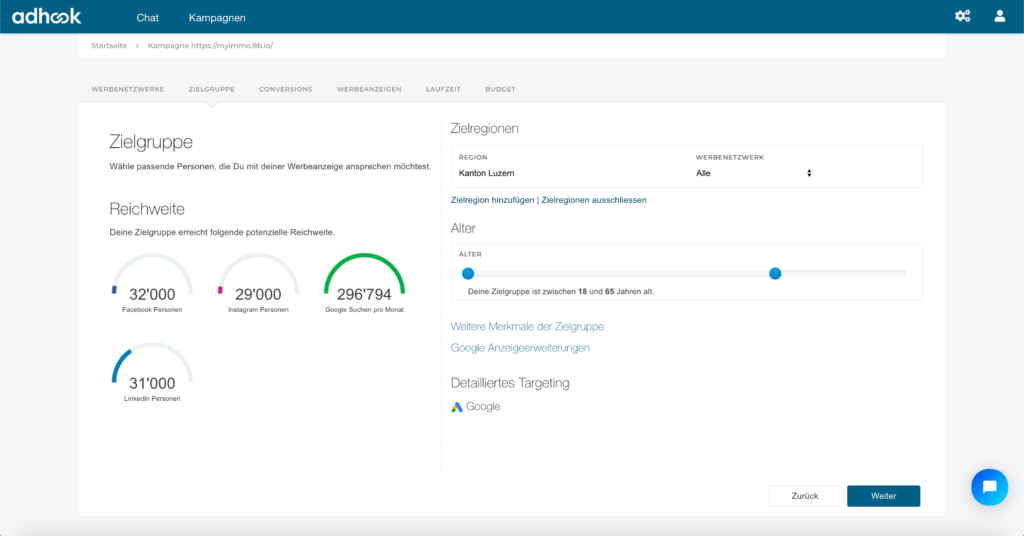 Automated campaign optimizations
Active campaigns get checked periodically for optimizations and important information. As soon something interesting happens, you get notified. Depending on your needs, you can configure adhook.io to check your campaigns daily, all 3 days or weekly.
You can apply or dismiss suggestions by answering the message in our chat-based application. Here are some examples, what adhook.io checks for you:
Ad Performance compared to industry benchmarks
Comparison of multiple ads in your campaign
Ad Relevance rating
Keyword performance (Google Ads)
New Keyword ideas (Google Ads)
Campaign statistics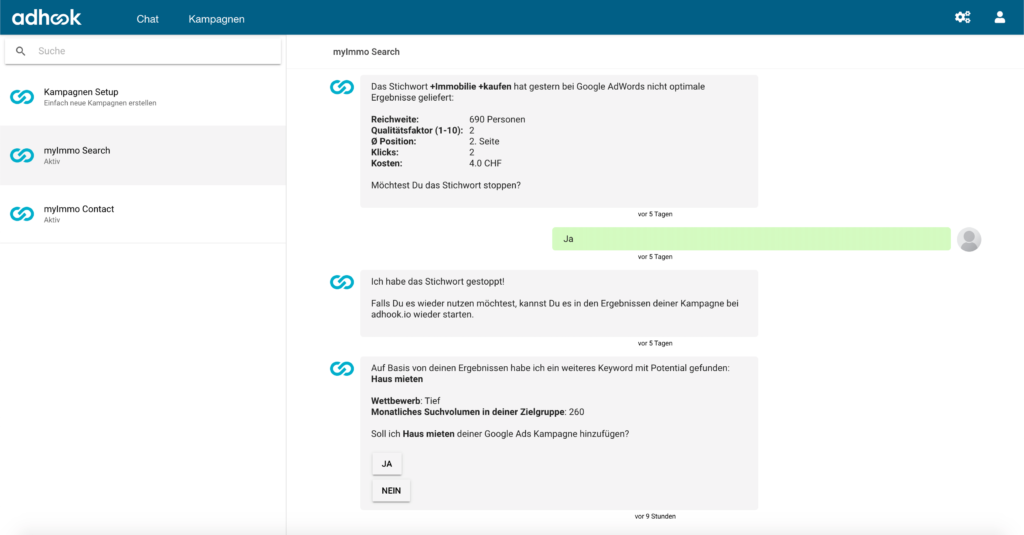 Overall reporting
With adhook.io you get all your search & social advertising statistics in one place.
In our campaign reporting dashboard, you can find all the needed data from ad to channel level in a few clicks. To get more information out of a campaign created in adhook.io, you can link your Google Analytics account.
Our system retrieves metrics from your Google Analytics data and maps them to your campaigns by UTM tags (e.g. Bounce Rate or Avg. Session Time). This way you get important information from different channels and the impact on your website directly in adhook.io's reporting UI.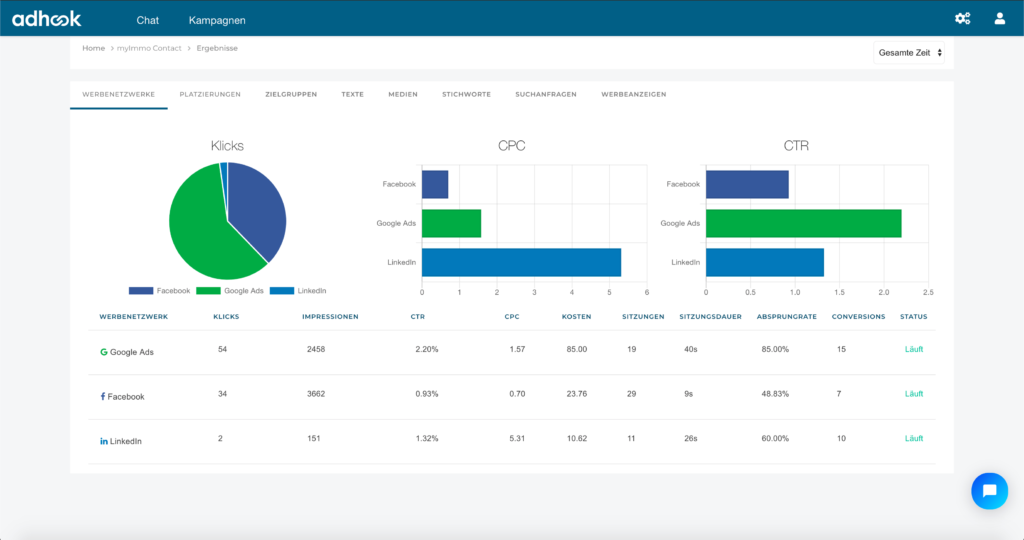 Pricing plans
We offer plans that differentiate in used features and advertising spend, to support the needs of our customers, from small businesses to enterprise customers. For all plans, a free trial of 14 days is included.
Basic: 49 CHF / month
Google Ads & Facebook Ads
Unlimited campaigns & optimizations
1 User
Up to 2'000 CHF monthly ad spend
Premium: 149 CHF / month
Google Ads, Facebook Ads, LinkedIn Ads & Twitter Ads
Google Analytics integration
Unlimited campaigns & optimizations
1 User
Up to 5'000 CHF monthly ad spend
Enterprise: Individual offer
Google Ads, Facebook Ads, LinkedIn Ads, Twitter Ads
Google Analytics integration
Unlimited campaigns & optimizations
Multiple users
Individual integrations
Individual ad spend
API access
Next steps
adhook.io currently knows around 40 different checks that get applied on your campaigns to evaluate the most important next step action. It's already possible to create a chat-based campaign by answering a few questions based on the campaign objective.
We keep on working hard to make our virtual assistant as intelligent as possible.
The goal is to create effective new campaigns with as little effort as possible and optimize them automatically towards your goals. To do so, we're very happy to work together with Google as part of their "Chanel Sales Acceleration Program".
Follow us on LinkedIn, Twitter or Facebook to get notified for news about our next steps and new features!
Digital advertising webinars
We love to share thoughts on digital advertising topics together with partners in our webinars.
To get some more information about adhook.io or in general if you're interested in digital advertising, check them out! You can find an overview of our past and upcoming webinars here.

Let's connect
Are you interested in what we're doing or do you have questions about your digital advertising challenges? Just leave a message to hi@adhook.io.