What is Atracsys' PopupExperience?
Atracsys Interactive is a Swiss software company specialized in Multi-Touch Multi-User applications for large touch screens.
We develop and design software focusing on natural interactions, immersive user experience and Multi-User collaboration, an example of such is our PopupExperience application.
The PopupExperience application offers to our clients a new way to interact with their prospects and customers. It is innovative, intuitive and gives a deeper impression to their product presentation.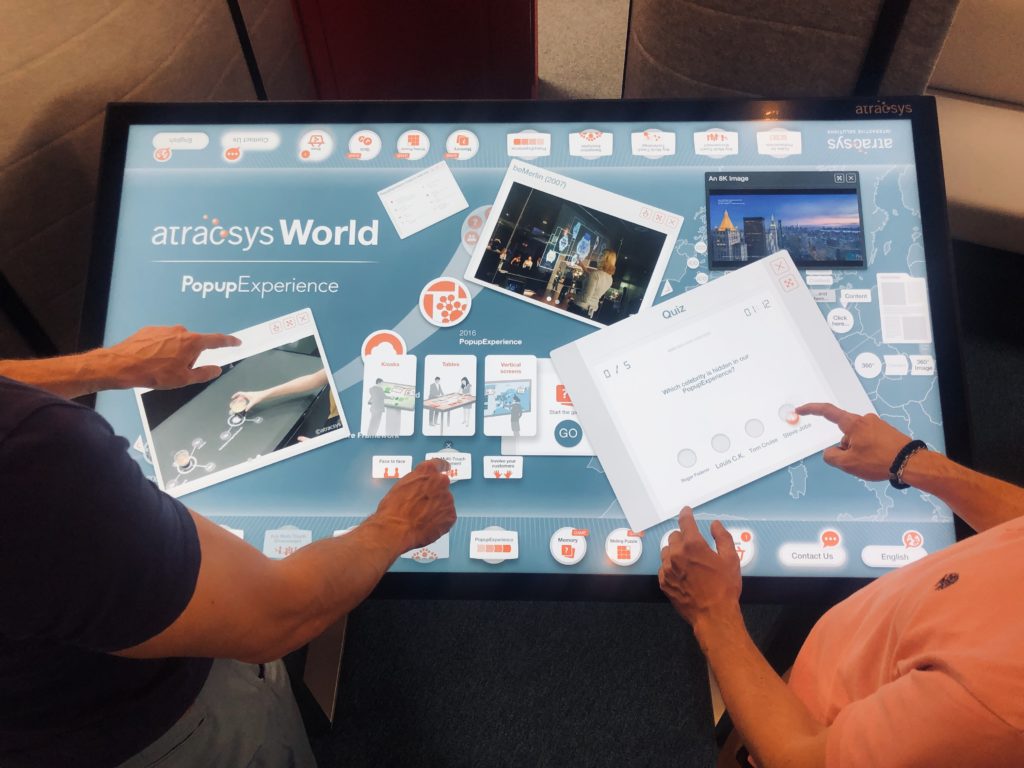 Key Benefits & Features
Organize your promotional material – videos, presentations, pictures – in a clear data structure and make it easily accessible to anyone, at anytime. With the touch of a finger, your customers are able to experience together all of your digital assets.
Our PopupExperience application is a native Windows application which is internally developed in Lausanne.
Our clients' solutions are introduced as a mind-mapping organisation to allow an optimal communication, without neglecting a high design customization.
Also, our strength is to offer an interface allowing multiple users to view different contents simultaneously on the same media, in a very reactive way.
Indeed, our former EPFL, Lausanne Switzerland engineers have developed a highly optimized code based on the same approaches as a video game engine.
Create multi-touch presentations in just minutes.
Upload 100's of your HD Pics, Videos, and Text.
Advanced UI/UX, custom look and feel.
No Coding Required!
Compatible with any Windows-based touch device. Win7/8/10
Ideal for large format touch displays, interactive kiosk, touch tables, and tablets.
Compatible with Microsoft Surface for mobile presentations
Who are Atracsys' PopupExperience customers?
Atracsys Interactive collaborates with all industries, from SMB to Fortune 500 thanks to its wide range of interactive solutions.
Watch industry: For Baselworld, our customers such as Omega or Longines use our solutions to present their new products efficiently and in a detailed way.
Museums: Atracsys Interactive is a trusted partner for numerous museums in Switzerland, such as Geneva and Lausanne museums, Red Cross Museum, Swatch museum, etc. The PopupExperience application gives deeper information to visitors for temporary and long term exhibitions.
Fortune 500: We collaborate with large companies and imagine solutions available in their lobby to present to external visitors the different campuses, departments, last company innovation, etc.
Regardless of the industry, the main purpose of running a PopupExperience application is to give a different approach by involving the visitor in the presentation while having a strong impact.
Most of our clients confirm that an interactive software helps them share the right brand message to their customers during a commercial presentation or during a product launch.
Indeed, for such industries with very specific products, a visualization of the context is an asset – watching and understanding at the time.
How to get started?
Allows us to give you a demo and experience the affordability of our software and hardware.
Need an entire experience created from scratch?
Whether you are at the initial planning and budgeting phase of your project or if you already have a working concept for your experience, we can help.
We offer free interactive experience building consultation services as well as project management and support to ensure a well-executed deployment.
For further information, please click contact them here.
How does Atracsys' PopupExperience work?
Great interactive experiences begin with a solid content strategy.
The very first step is to develop content that customers can engage with and be immersed in. We are passionate about strategy and design which is why we offer easy to use licensed software and/or custom creative solutions with some of our most trusted creative developers.
According to our development process, you or your agency will provide the data structure and the UI design. We will then bring your design to life within a few working days.
Import your content and publish it to enjoy your Multi-User Multi-Touch application.
Also, every PopupExperience has its own individual content management system (CMS), unique to the underlying data structure. The Swiss-hosted atracCloud services give you data security and full control over your content.
Manage all your PopupExperience in one place and deploy on multiple devices at once.
The various access levels even offer the possibility to delegate content management to third parties such as a communication agency.
What is coming next
We strongly believe that delivering the best possible product is more important than short-term profitability. Therefore we will always go the extra mile to earn the full satisfaction of our clients.
Our products are constantly evolving according to our clients' needs and wishes.
We are continuously working on our content management system to make it as flexible and intuitive as possible.
Our brand new functionality is a marketing add-on based on visitor content read tracking: titled The Basket, allows users to collect content of interest quickly in a single place and then transfer it to their smartphone, simply by scanning a QR-code.
Let's connect with Atracsys
Contact us either via our website or email to contact@atracsys-interactive.com