What is elias®?
elias® is an online editorial and publishing system.
With elias® publications such as annual reports, fact sheets, media releases, data sheets, user manuals or teaching materials can easily, cost-effectively and securely be created and published cross-media.
The easiest way to automate professional publications
The informational behavior of investors, customers, employees and other stakeholders is becoming increasingly diverse. As a result, communication is more demanding for companies. This new media diversity is insufficiently covered by the classical communication approach. New solutions are needed to increase efficiency, optimize communication processes and cut costs.
There is a promising solution for these challenges: The automation of publications by using the online editorial and publishing system elias®.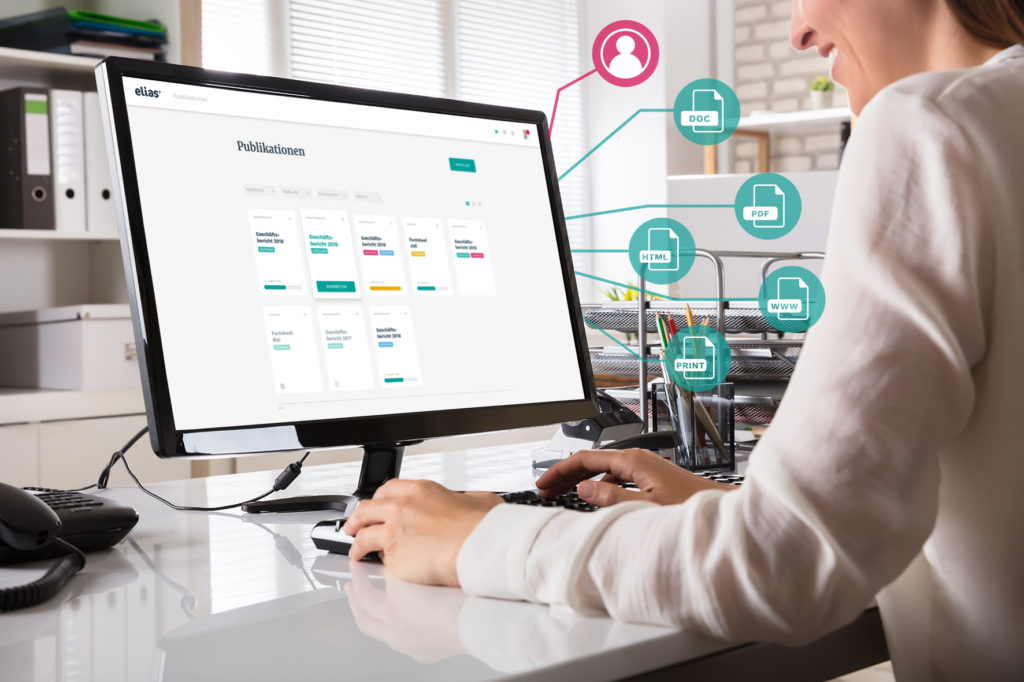 Simple and efficient
elias® is designed for outstanding usability: The handling is so simple that even people without prior knowledge find it easy to work with elias®. Thanks to the intuitive user interface, publications can be jointly created within the shortest possible time.
To ensure that all publications are visualized consistently cross-media, the editors have various easy-to-use content elements at their disposal. The integrated Excel connection allows complex tables and conclusive charts to be automatically created and adapted.
All publications are stored in one place but are only accessible to assigned editors. This ensures both security and collaboration in a publication. By editing publications together, time-consuming correction processes can be avoided and the creation time significantly reduced. This leaves more time for other tasks while increasing the efficiency of the whole publication process.
Flexible and independent
With elias® publications can be created, edited and published regardless of time, place or device. Thanks to easy access via the Internet browser, elias® can be used without any additional software installation. This strengthens the independence and flexibility of the user.
Individually programmed templates for print and online publications ensure that the defined corporate design is followed throughout every publication. The consistent presentation of publications increases the perceived quality of corporate communications.
Any ambiguities can be quickly resolved thanks to a complete support database and individual customer support.
Safe and reliable
elias® makes security a high priority. In order to ensure that access is only granted to the designated users, a 2-factor authentication system and many other security mechanisms are used by elias®.
A comprehensive authorization system controls the access rights within the company. With the help of different authorization levels, publications can be released or blocked for individual users.
elias® offers the highest system availability. This allows unlimited access to publications. 24 hours a day, seven days a week.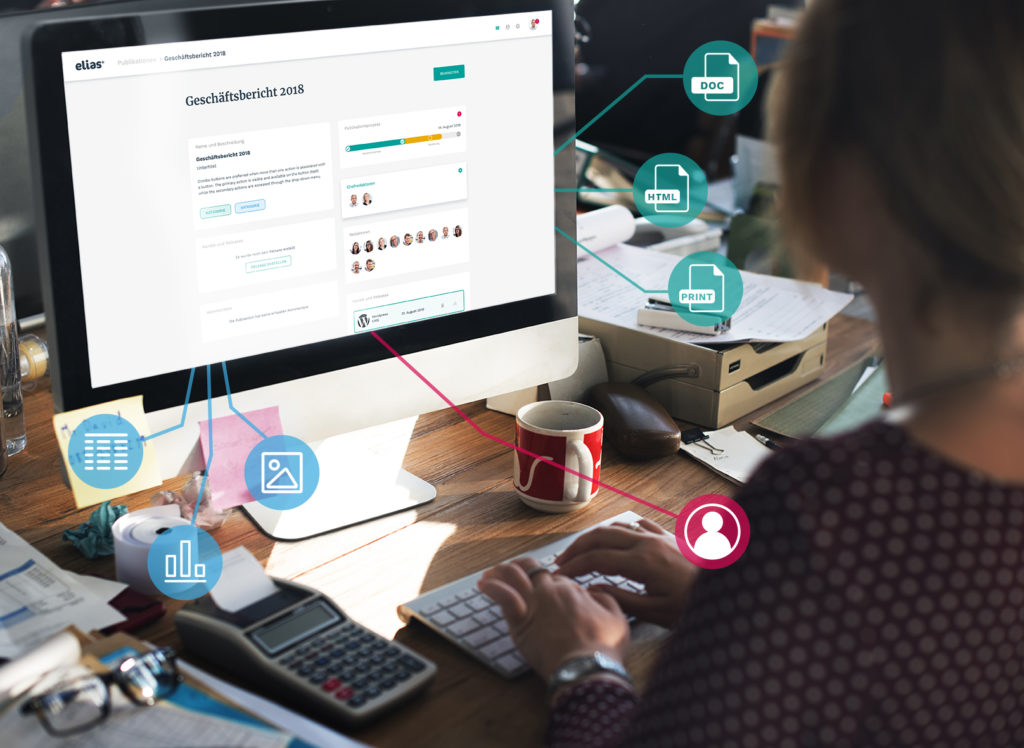 Experience has shown that the elias® approach works. Users appreciate the simple operation and high process reliability. In addition, considerable increases in quality and cost savings are achieved shortly after.
Now anyone can benefit from publication automation
elias® pursues the vision of the simplest online editorial and publishing system. Publication automation is now accessible to companies for whom automation previously was not affordable or too complex.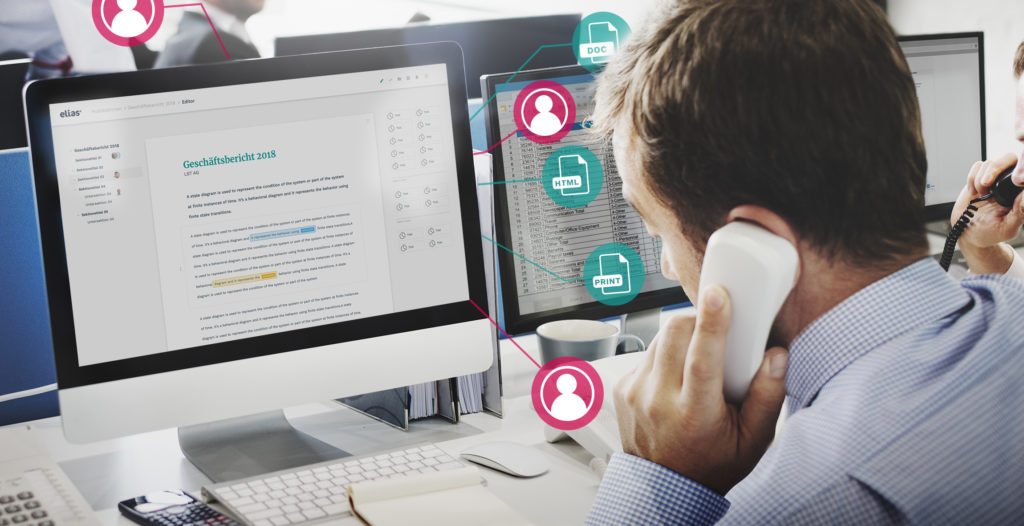 The functional range of elias® adapts to the needs of the user. This modular setup makes elias® an affordable solution.
How can I get started with elias®?
A personal and free system demonstration can be requested on the website. Throughout this presentation the particular possibilities and benefits of elias® will be shown.
If a customer chooses to work with elias®, the appropriate templates will be programmed according to his/her individual requirements. It only takes a few days to start working with elias®.
Needless to say, during the implementation phase, all elias® users are well supported.
However, experience has shown that elias® can be independently operated after a very short time and productivity increases rapidly.
Together towards the future of corporate publishing
Behind elias® is a Swiss agency with many years of experience in the conception, design and implementation of professional corporate publications. This experience and the specific know-how are the very foundation of elias®.
elias® is provided as a SaaS-solution. This allows customers to benefit from the continuous further development and improvement of the system. In response to new customer needs and requirements, additional functions are implemented on an ongoing basis.
elias® in 124 seconds
Learn more about elias®
Visit our website or email us at hallo@lst.team