What is Nexoya?
Nexoya helps you to get all your KPIs together and brings data-driven decisions to modern marketers.
Nexoya is a platform which offers marketing analytics to digital marketers. Nexoya allows you to easily get all your digital marketing metrics into one place and then leverage artificial intelligence to use predictive analytics, look into correlations and monitor KPIs using modern anomaly detection.
The company is a young startup founded in 2018, and is based in the center of Zurich.
What does Nexoya offer to digital marketers?
Nexoya offers consolidated analytics & reporting services that can help you to easily create marketing campaigns and reports with the help of multiple marketing tools. Moreover, Nexoya's dashboard gives you an overview of your entire digital marketing performance across various marketing tools and channels that you are using for your marketing strategy.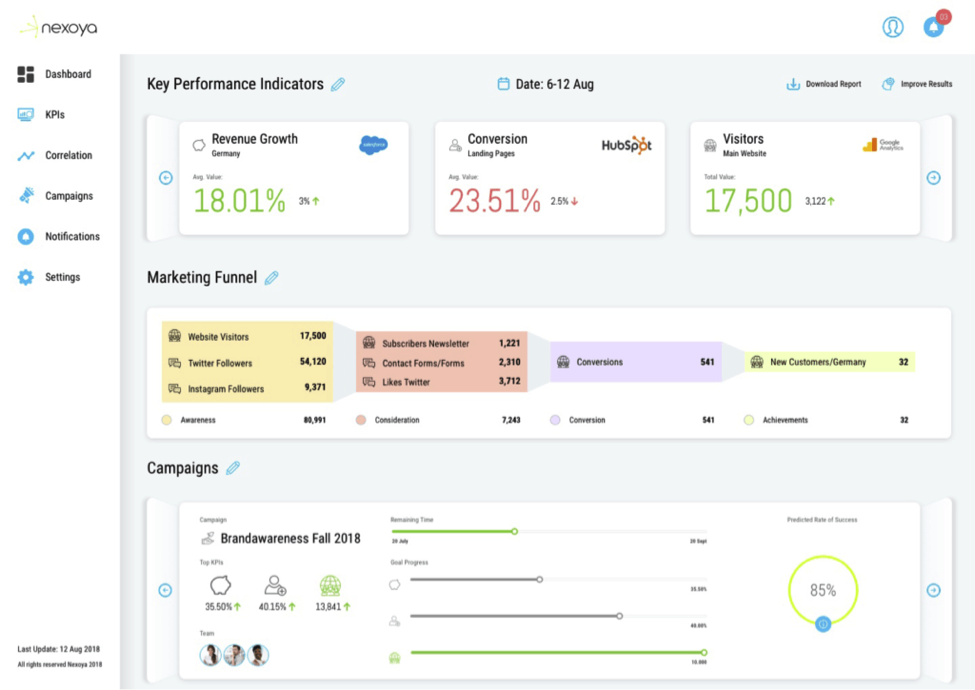 With Nexoya's marketing campaign management feature, users can plan their marketing campaigns on one single platform and get predictions of how likely these marketing campaigns will be successful. Nexoya's predictive analytics will help marketers to adjust and optimize their marketing campaigns for better results.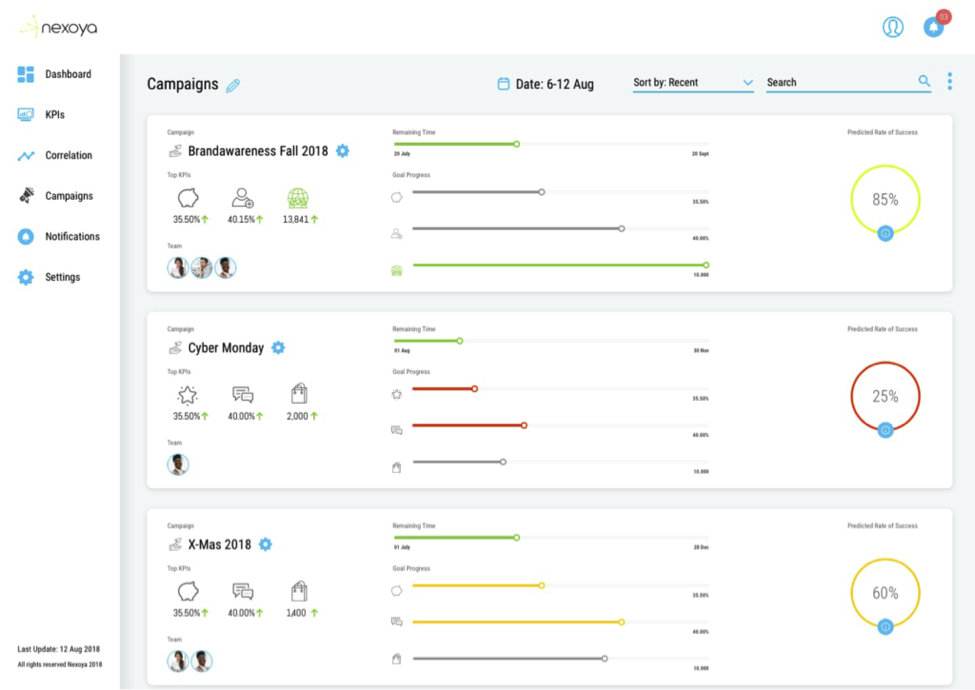 4 main features of Nexoya's -AI marketing intelligence platform:
Aggregated marketing data & reporting
KPI & campaign predictions
KPI monitoring with anomaly detection
KPI prediction or anomaly detection
Key audience
Nexoya is best for digital marketing teams with an aim of getting easy access to their digital marketing KPIs & Reports. Most of our users are digital marketing teams comprising 3-20 people from various industries or agencies, who want to automate reporting and campaign management for their customers.
Pricing
We're currently offering a one month trial during our beta phase. Anybody is invited to apply and become an early adopter!
Sign up here!
Tool Usage and the Onboarding Process
Our tool is self-service. The customer can completely onboard by himself/herself within 5-10 minutes.
Note: At the moment, we're in the beta phase, so we are assisting customers with the on-boarding process.
After connecting all your tools, (such as Google Analytics, Facebook, Hubspot, Twitter, MailChimp, etc.) it takes roughly 5 minutes before you see the first data on the dashboard. Afterward, you can start monitoring your campaigns immediately. Our Monitoring and Campaign Prediction kicks in after 24hrs – where we initiate all your data and do the first scans with our artificial intelligence models.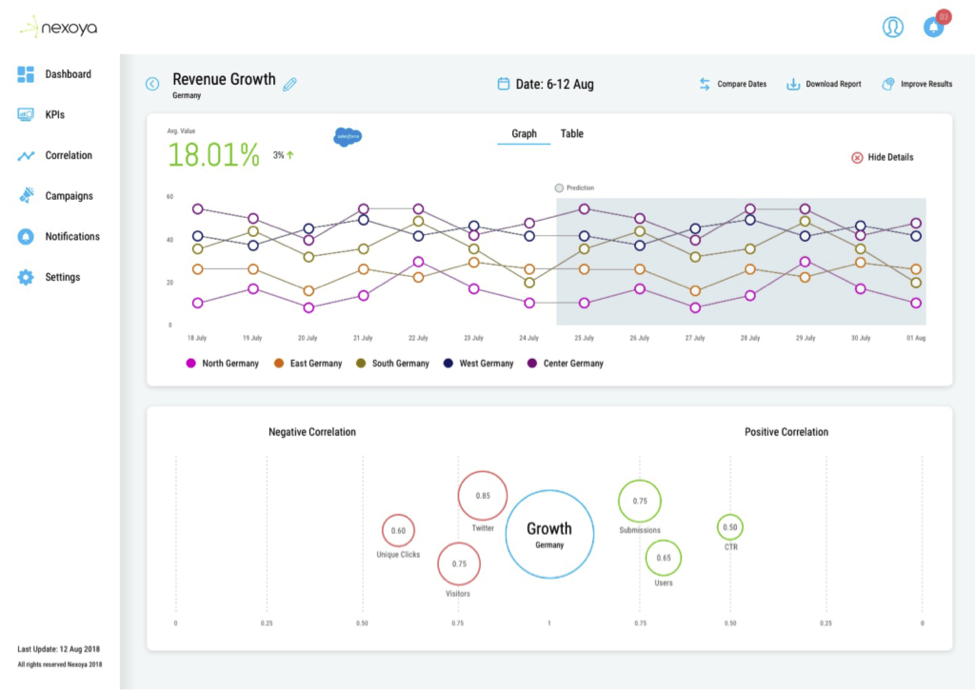 Customer service
Depending on the tier of the customer, there are various support levels. The lowest tier has a simple support form with the best effort answer time. The higher packages have slack-channel support and direct contact points to our customer success team.
Feel free to contact Nexoya via email: info@nexoya.com
Upcoming features and news
We are constantly improving our services and adapting them to meet our customer needs. Already planned and the work-in-progress are the Advanced reporting capabilities, such as campaign reporting, funnel-reporting, and social media reporting.
Continually, we integrate new adaptors. In the near future, we will add MailExpert, Pipedrive, Salesforce, Shopify, and Youtube.
Furthermore, Nexoya offers marketing performance advice to digital marketers on topics such as campaign optimization, SEO or social media. Our goal is to become your virtual digital marketing assistant who helps you in running your digital marketing in the most efficient and effective way.
We are constantly working on new ideas to help our customers to develop and learn more about AI itself and how marketers can benefit from it. Our upcoming E-learning course about AI in marketing that will be out in August 2019 is a good example of such developments.