What is Pitcher?
Pitcher is a leading end-to-end enterprise B2B sales enablement platform for sales, service, and marketing teams.
The Pitcher Super App covers over 14 critical use cases for marketing, sales and field teams: including account management, analytics, coaching, closed-loop marketing, consent management, content management, multichannel communications, order management and CPQ, remote self-guided detailing, retail execution, route planning and optimization, sample management, trade promotion management, and training.
The company was founded in 2011 and is headquartered in Zurich. Pitcher also has offices in the U.S., the U.K., Mexico, Turkey, Spain, Hungary, Singapore, Germany, and China.
Pitcher founder Mert Yentur created Pitcher after developing the first iPhone app in Europe and foreseeing the massive impact the iPad would have on software development and delivery.
Enterprise vendors were trying to determine how to best leverage this new mobile technology and regularly asking Mert and his team to develop custom solutions.
Mert and the Pitcher team determined that they could create a platform, a SaaS solution that served the two primary purposes of solving pain points all sales reps experience and delving deep to create solutions for niche challenges in unique verticals.
Over the past ten years, the company has accumulated a large number of Fortune 500 customers who rely on the Super App for their B2B sales journey.
What are the key benefits of Pitcher?
Pitcher's Super App is the only sales enablement solution that unifies the various sales technologies into a single application. No other solution offers the breadth of functionality within one easy-to-manage UI for sales and marketing teams.
The Super App adds value to sales and marketing teams by means of an intuitive technology, allowing teams to centrally manage content sharing, content customization, presentation delivery, omnichannel management, analytics and more.
Pitcher's seamless integration with the most common CRMs and DAMs allows full access to content and customer information, and the Super App can be used offline and be automatically synced later for simple and worry-free interaction tracking.
Using Pitcher, sales and marketing teams have access to the only fully end-to-end sales enablement solution with customization capabilities specific to different verticals (life sciences, CPG, manufacturing, and financial services).
Teams don't need to be digital natives to succeed with Pitcher's easy-to-navigate Super App, which centralizes access to historical data and market analysis, coaching tools, customizable content, analytics and more.
Pitcher:
Who are Pitcher's customers?
Pitcher is deployed in over 140 countries in the life sciences, consumer goods, manufacturing, and financial services industries by customers looking to drive customer engagement and commercial excellence.
Its success in delivering customer satisfaction is evident in Pitcher's recently being named as the enterprise vendor with the highest user adoption by user review site G2.
There are a number of representative customer case studies demonstrating Pitcher's value in boosting sales, improving engagement, improving field marketing, and more available on Pitcher's web site.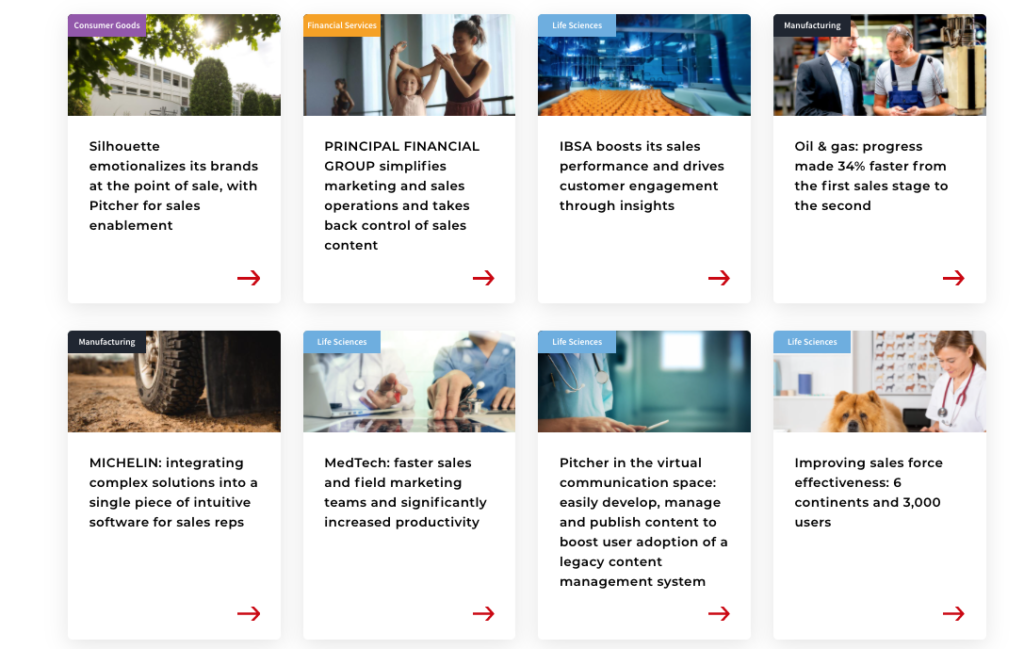 What is Pitcher's Pricing Model?
Pricing varies based on modules and licenses.
How does one start to use Pitcher?
Because of its broad functionality and agile design, Pitcher is created for easy deployment no matter how deeply it is integrated. Pitcher's mobile-first approach enables all levels of engagement, from light to heavy, depending on individual needs.
For example, a customer could elect to use the Pitcher App for remote signature capture and dynamic pricing without on-site visits, then expand to include analytics and tracking of interest levels and integrating omnichannel application management.
To get started, users can schedule a quick demo for a product overview, and get details on how the Super App can be customized, how Pitcher drives ROI and saves time and increases engagement, and the processes by which it captures essential data while maintaining compliance.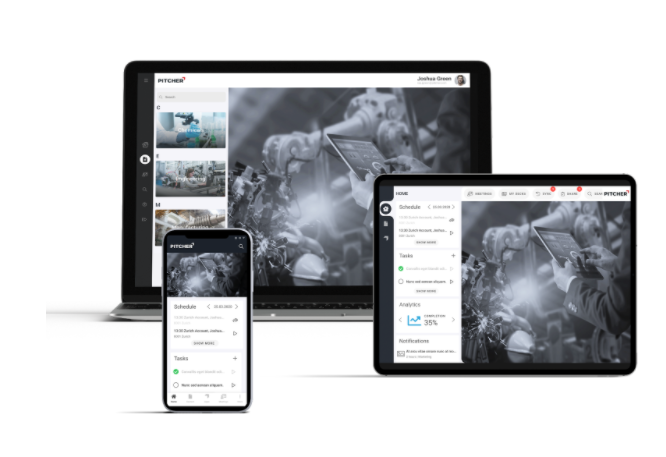 How does Pitcher fit in a marketing stack?
Pitcher will integrate with existing stack CRMs, ERPs, CMSes, and DAMs, and provide a seamless experience for teams whether at the office, at home, or on the go.
Pitcher connects with third-party systems, including CRM systems and BI platforms, sales automation platforms, content repository and content management systems, and more.
It's cloud-based automatic content convection (ACC) eliminates the need to reformat files and allows for agile content creation, distribution, and consumption across desktops, laptops, tablets, and smartphones.
By integrating with all of the applications used by sales teams alongside workflow orchestration and processes from different platforms, Pitcher improves sales and marketing teams' satisfaction and operations, and works under GDPR to offer a compliant solution that ensures conversations are stored and logged as mandated by GDPR.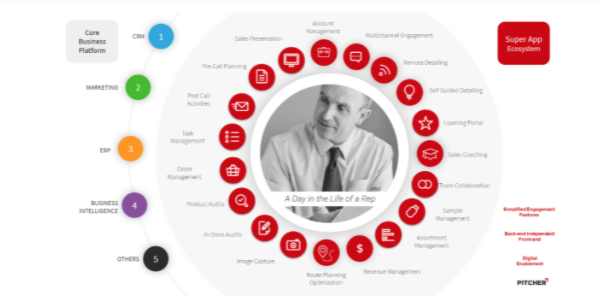 What's on the roadmap for Pitcher?
Pitcher will be developing further with AI and ML on his Coaching, Omnichannel, Content Automation, Guided Selling and self service analytic modules.