Profital: Switzerland's best shopping guide
Profital is Switzerland's leading shopping guide and reaches more than 300'000 active users per month.
The free Profital App and website give users a convenient overview of advertising leaflets, catalogs and promotions from shops located in their area. Users can also find opening hours and receive push notifications when new offers are available.
With Profital, retailers can advertise their offers on a shopping platform, where consumers want to see ads. This increases the reach of the leaflets and catalogs and drives customers to store.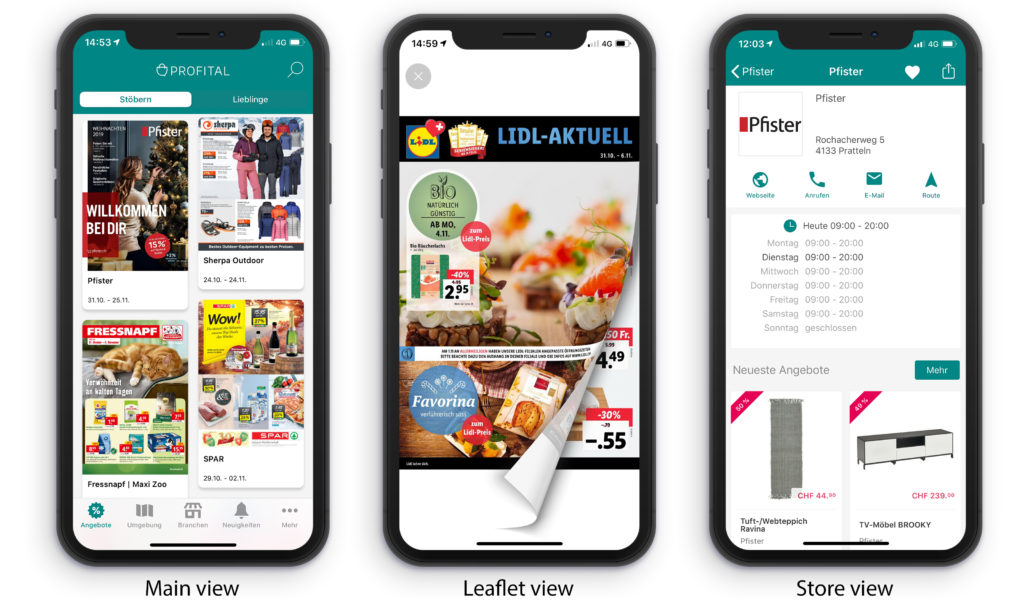 Profital's Key Benefits
Profital is a location-based mobile marketing service for retailers.
More than 60 Swiss retailers already advertise their offers with Profital and thus provide consumers with an all-in-one shopping guide.
With Profital, retailers have the opportunity to use an attractive online-channel to address shopping-oriented consumers in the vicinity of their offline stores.
Retailers' leaflets and catalogs are published in the Profital App, on profital.ch and in its premium publisher network which also includes Bring, a popular shopping list app.
The digital publication of catalogs or leaflets increases the reach and adapts the popular print leaflets to the use on the consumer's single most important device, the smartphone.
In addition, Profital enables retailers to address consumers at the moment it matters most: during the buying decision process.
With Profital, retailers benefit therefore from the so-called ROPO effect (Research Online, Purchase Offline).
Thanks to the use of geo-technology, Profital can measure the number of users who visit a store after having read the digital leaflet (store visit rate). With this KPI, retailers can evaluate the impact and effectiveness of their advertising activities.
In addition, Profital was awarded the Best of Swiss App Silver Award for its customized feed-based catalog ads. Profital generates digital catalogs with offers from a product feed and on the basis of the company's design guidelines.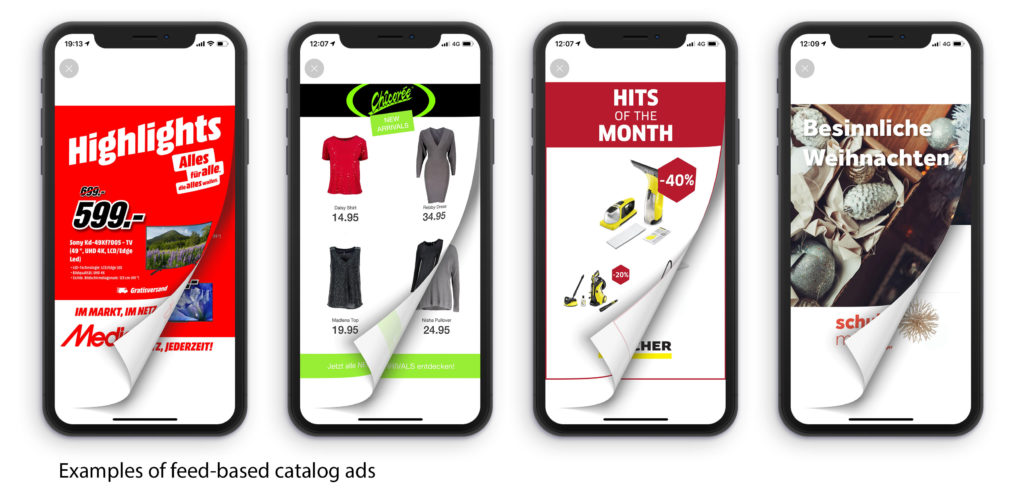 The Ideal Marketing Tool for Retailers
The users of the Profital app and website appreciate the large selection of offers. This is why companies from all retail sectors advertise their offers on Profital.
Profital's current partners include Lidl, C&A, Jumbo, Pfister, Bosch Car Service, Rotpunkt Apotheken, IMPORT Parfümerie, Office World, Kärcher, Fressnapf, ITS Coop Travel, OTTO'S and many more.
Very Easy Setup & Professional Campaign Management
Setting up a mobile marketing campaign with Profital is very easy and almost completely hands-off.
After receiving the campaign confirmation, Profital sets up an automated integration of the store information and – if available – of the digital leaflets. If the latter is not available online, the leaflets/catalogs are made available via e-mail or on a server.
Profital designs digital catalogs on the basis of a product feed for companies wishing to create feed-based catalog ads
Continuous monitoring and optimization of the campaign are guaranteed by the Profital campaign management team. Retailers receive detailed performance reports of their campaigns.
Performance-Based Pricing
The price model is cost-per-click (CPC).
The publication of digital leaflets or catalogs is therefore free of charge, retailers only pay when an interested user clicks on and reads his leaflet.
To ensure that costs stay within budget, each campaign includes a cost cap.
In A Nutshell
Location-based display of offers in the leading shopping app
Gain more reach by addressing a younger and mobile audience
Target users who want to see ads and therefore receiving high-quality traffic (pull marketing)
Drive customers to stores after their online research (ROPO effect)
Gain insights through detailed performance reports of the campaigns, incl. store visit rate
Use feed-based catalog ads as an automated and cost-effective alternative to creating catalogs
Easy and hands-off campaign setup
Performance-based payment: cost per click, incl. cost cap
Interested? Contact Profital