What is SIGNIFIKANT.ONE and who are we?
SIGNIFIKANT.ONE is a software that revolutionizes the mass media advertising market. It enables advertisers and marketers to measure the impact of their marketing campaigns.
For the very first time ever, they can precisely determine the amount of contacts needed to generate a specific conversion across on- and offline channels. This way, not a single Dollar gets wasted.
Signifikant Solutions AG is an independent start-up based in Switzerland. We have developed the SIGNIFIKANT.ONE software as part of an Innosuisse research project in cooperation with the Lucerne University of Applied Sciences and Arts, the Association of Swiss Advertisers (SWA/ASA) and some of the largest advertisers in Switzerland.
What problems do advertisers & marketers face nowadays?
The advertising market is facing a huge problem. Like Henry Ford (or John Wannamaker) once said: Half the money I spend on advertising is wasted, the trouble is I don't know which half.
According to a recent study done by Kantar (2018) this leads to big challenges in measuring the marketing performance, understanding omnichannel (online & offline) behavior and optimizing media investments.
And therefore, they still struggle in creating strategies to reach their customers.
But now they can get the most out of their marketing budget
Our SIGNIFIKANT.ONE dashboard solves this problem. Advertisers and marketers are able to get the most out of their marketing budget and…:
finally gain more control in the media controlling process
helps them getting the job done in a most efficient way
allows them to continuously optimize mass media marketing campaigns
Meaningful KPIs help to measure the success of marketing campaigns in a most reliable way
Introducing one single currency called RCC (Required Contacts per Conversion), which has been scientifically proven
The CPC (Cost Per Conversion) indicates the Return on Investment
It works simple, smart and fast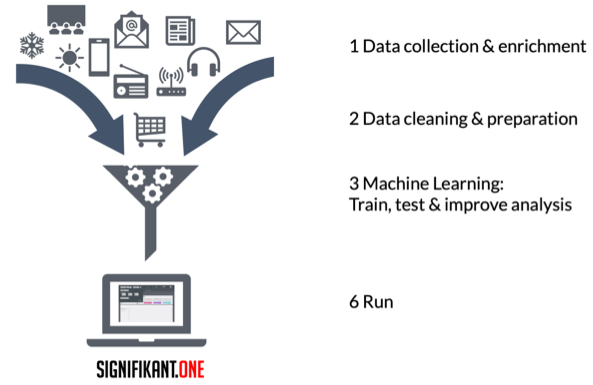 Our intelligent solution explained in 4 steps:
Media and conversion data (on- and offline) are automatically collected and integrated into our data pool. At the same time, we enrich the data with other information such as weather data, media spending of competition, and many more.
In this step a highly automated process ensures the best data quality and also validates the data.
From around 200 high-performance, scientifically tested algorithms, those that best fit the campaign are automatically selected and applied to achieve reliable results.
The results are presented transparently, clearly and in an easy to understand way in the SIGNIFIKANT.ONE dashboard
Easy to access
Our tool can be taken into operation with little efforts. After signing our licensing agreement, customers may access SIGNIFIKANT.ONE easily via web browser. Our integration partner helps them if little development on the interface is needed so that conversion can be displayed automatically.
A short tutorial helps users to get familiar with the tool so that they can get the most out of it. If in any case further assistance is needed, they may contact our integration partner who will help them gladly.
Let's connect with Signifikant
Contact us either via our website or email to info@signifikant.biz