What is Unblu's Conversational Platform?
Unblu is a privately held company with headquarters in Basel. The company has 50+ employees in its offices in Switzerland, Bulgaria, Germany, the UK and US. Over 150 banks and insurance companies are currently using Unblu's Conversational Platform for seamless, compliant and secure conversations with customers.
Unblu partners with major core banking systems and as well with e-banking front-end software providers such as Avaloq, Temenos, Finastra, Crealogix, Backbase, Ebankit.
Empowering Financial Institutions with online conversations
Unblu empowers financial institutions to make every online conversation meaningful and profitable. The solution is designed for the needs of financial institutions and is architected to meet stringent data security and compliance requirements.
The platform is based on two key elements: Conversational user interfaces and collaboration capabilities.
Conversational user interfaces
Conversational user interfaces (CUI) help your business to remain close to customers and to improve advice and support. Unblu offers secure in-line messaging, chat, video and voice implemented on authenticated online channels and mobile applications.
Collaboration
Unblu collaboration features help financial institutions to improve customer conversation over digital channels. Agents or advisors working at the financial institution can securely browse with the customer their online portals, internal applications or any documents.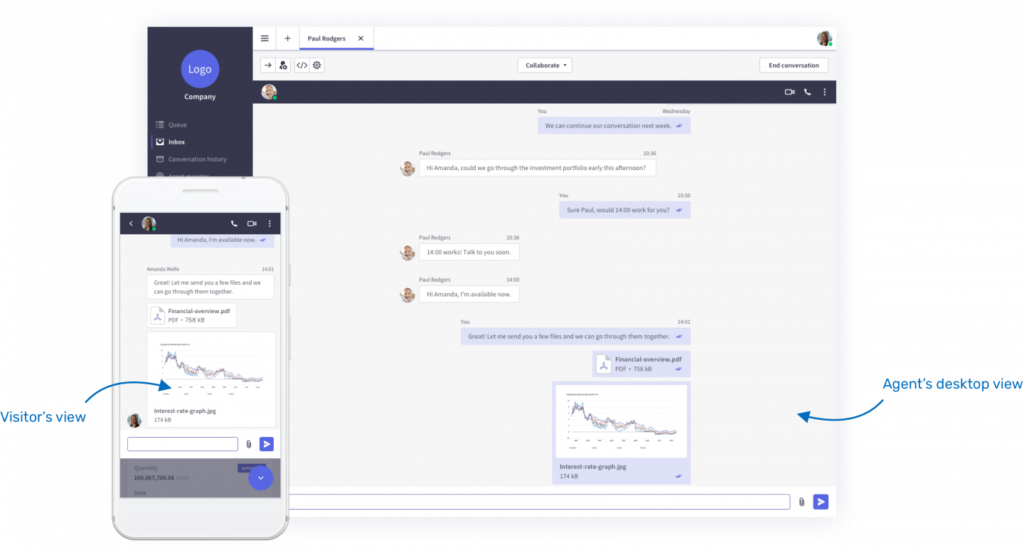 Key features of Unblu for the financial institutions
Secure Messenger
A trusted advisor in your customer's pocket, Secure text messaging is a feature designed for complex financial product discussions and situations when the customer has a dedicated advisor.
Live Chat
Effortless live engagement with Live Chat enables the financial institutions to be available and helpful at the moment that customers need help.
It helps to resolve issues quickly and provides the kind of customer care that builds trust and converts visitors into customers in real-time.
Video & Voice Chat
Video software provides a personalized service that your clients will appreciate. Unblu video chat module allows banks and insurance companies to connect with their customers in real-time to accelerate the sale process securely.
Co-Browsing and Real-time collaboration
Co-browsing software lets you collaborate in real-time with your customers. A Relationship Manager can work with a customer to discuss opportunities, fill out forms or purchase products online.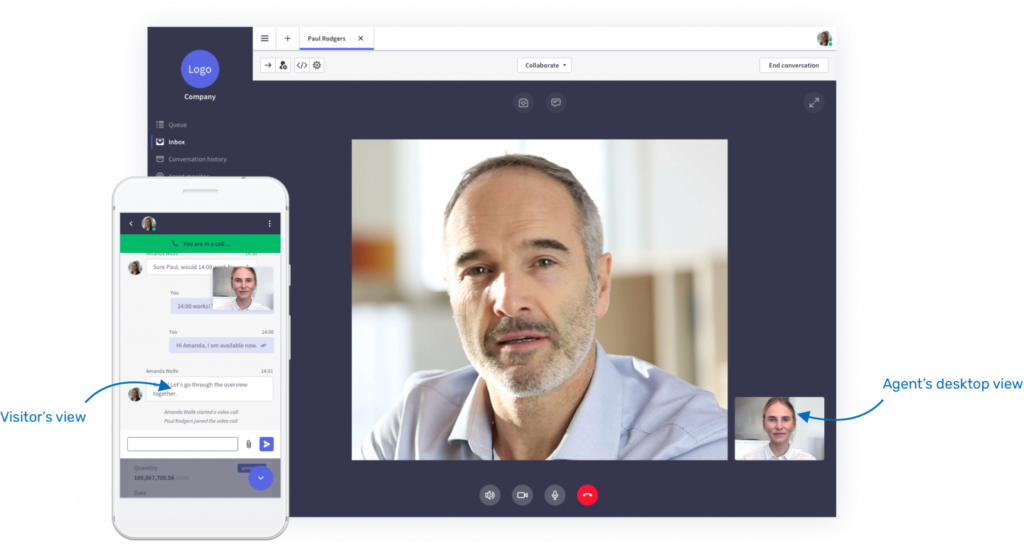 Screen Sharing
You can connect and collaborate with screen sharing. The screen sharing feature transforms a conversation by providing both a visual context and the chance to interact visually. It engages customers, helps advisors solve problems faster, and creates a meaningful collaboration between the two.
Integrations
Unblu offers several integrations with the most popular Social Media messaging platforms. The messaging solution you implement should have the ability to connect with the customers via their favourite social messaging applications like WhatsApp or Facebook Messenger.
Unblu makes it possible with connectors and external messaging APIs.
Integrations with third-parties chatbots are also possible. Unblu's Chatbot API offers the perfect hybrid experience between the facility of chatbot interactions and the reassuring familiarity of human-to-human exchange.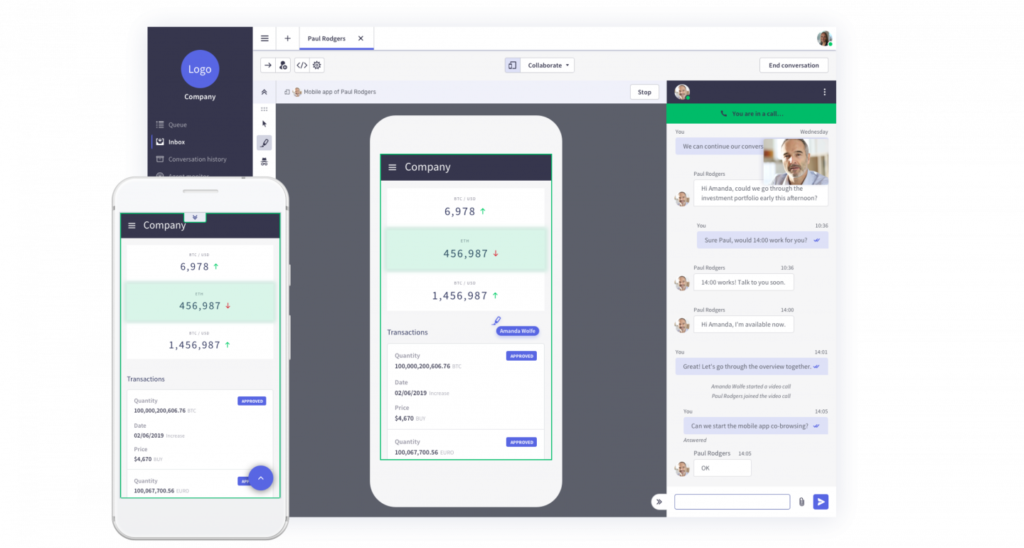 How to start working with Unblu?
The recommendation is to go through an integration partner. They will help you to analyze your requirements, define the best implementation approach and integrate Unblu within your company.
On-premise or Cloud? Both!
Financial institutions can have strict rules when it comes to the deployment model of their IT solutions. Unblu can offer on-premise installation or in the cloud.
On-premise is recommended for protected environments that are built for a high level of security. The customer coordinates system updates and decides when to deploy new versions. A specific infrastructure is required. Unblu delivers a clustered Kubernetes or OpenShift as the product standard.
Cloud deployment is recommended for environments accessible publicly. The software in the cloud is maintained by Unblu, without the need for any intervention by the customer. The system is delivered through an ISO 27001 and FINMA certified environment hosted in Switzerland.
Other advantages of the cloud are:
No hardware investment, server setup or maintenance required.
99.9% uptime SLA.
Always up to date.
Stay successful with a Key Account Manager
Once the Conversational Platform is installed and up and running within the customers' digital environment, Unblu allocates a Key Account Manager.
This main point of contact ensures that the customers are always satisfied. They can discuss future product features and evolution of the platform at any time.
What makes Unblu stand out (from its competition)?
Unblu has many competitors in the marketplace that claim to do something similar: From call centre providers to employee collaboration platforms and point solution.
How does Unblu stand out?
Unblu is the only company in the space that is 100% focused on the financial services industry.
The core platform integrates into existing digital channels (i.e. does not require its own app). It turns a self-service platform into a multi-user application without changing the underlying software application. All the technology is built and owned by Unblu and is delivered through one encompassing platform.
Unblu can easily be embedded in all the banking/insurance web and mobile assets. From public websites to e-banking secured portals and mobile apps.
Unblu has proved to reduce support time and costs, improve NPS, and increase client engagement and conversion rates.
Unblu is architected to meet stringent data security and compliance requirements in the financial industry. Their technology is patent protected.
Unblu understands Financial Services regulations and is built to meet required standards – whether stipulated by the local Market Regulator (Finma, Bafin, FCA etc.) or through Pan European Regulations (GDPR, Mifid2, PSD2).
As the platform has been designed with complex implementations in the financial industry in mind, it can integrate with existing systems. This spans CRMs, Call Center Applications, External Messaging platforms such as WhatsApp and of course, the Core Banking System.

What is coming next?
The next step now is to make interactions more efficient, both for the bank/insurance as well as for the end customer.
One thing Unblu team is currently working on is how to have a more "bot style interaction" for the routine tasks. Natural language processing integrations could integrate into the back-office systems of the bank.
For example, if you wanted to place an order through the secure messaging channel to your bank to buy a specific asset or stock, then you would have to have a sample trade that is simulated for the client to come back.
And that's something where you don't need a relationship manager to step in. You can place that sample trade while picking it up with Unblu's secure messaging capability. Then the solution would pass it on to the underlying system that simulates the trade.
Unblu would feed the simulation back to the client, who will have to confirm he has fully understood what the implications are and then executes it from there.
This is the next big step that Unblu is working on.
Get in touch
Looking for more information about Unblu? Contact Laura Moldenhauer – Marketing Manager DACH.