What is Picturepark?
Picturepark enables organizations to build purpose-specific content management solutions that help them to better manage and route any type of content, at any scale. Main use cases include Digital Asset Management (DAM) and Product Information Management (PIM).
The company was founded and maintains its headquarters in Switzerland. They also have offices in Chicago in the US and in Vienna, Austria.
With over two decades of content management experience, Picturepark has a history of innovation within the sector, being the first ever cloud based DAM (digital asset management) solution to be launched in 1998.
The year 2013 was a milestone for the company, as they launched the industry-changing Adaptive Metadata™, which recognised that the additional content information (metadata) which was required for different types of content varied and as a result should be able to be bundled together in easy-to-access layers (groups).
This was followed by 2019, as another landmark year, when Picturepark made their new generation API-first Content Platform generally available.
What are the key benefits of Picturepark?
Picturepark can be used as a standalone content system, as a routing hub which distributes content to other systems and as a OEM technology which provides the base for customers or partners to build their own purpose-specific content solutions.
Picturepark enables people managing their digital content to:
Who are Picturepark's customers?
Picturepark has customers spread across nineteen countries globally, ranging in size: from smaller outfits all the way up to globally renowned brands. Picturepark has a range of structured plans which are customized to suit different needs, recognizing that SMEs have different needs to their many enterprise customers.
It's the deep versatility of Picturepark which enables the platform to be used in such a broad spectrum of ways. As a result, Picturepark have a range of case studies on their website, spanning a diverse mix of industries including education, manufacture, tourism and others.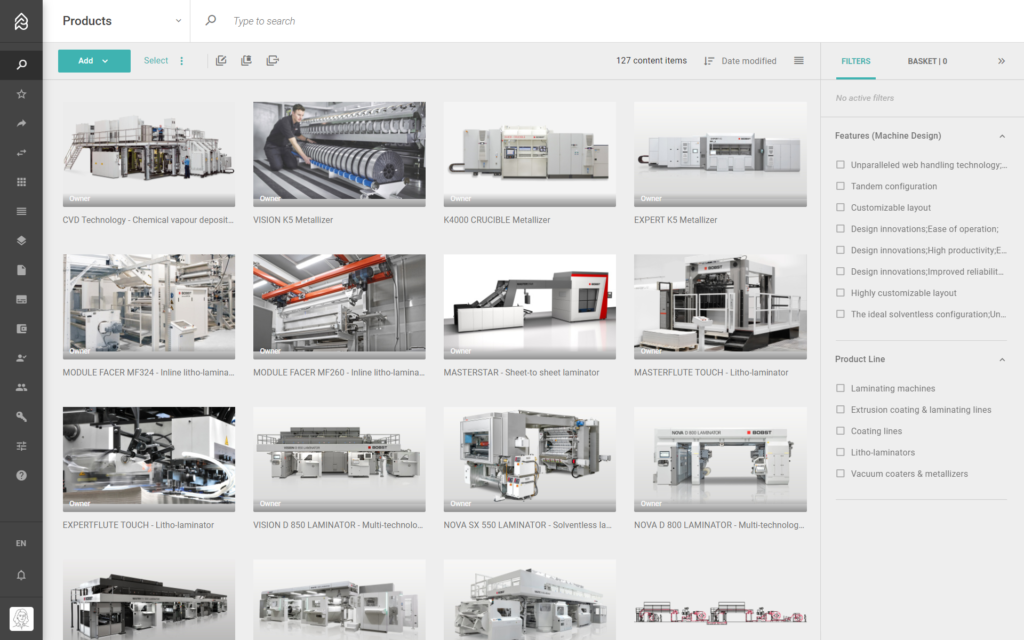 What is Picturepark's Pricing Model?
With over two decades of experience in the content management sector, Picturepark recognise that there are a range of different types of customer present in the market. As a result, this awareness features as part of their pricing structure, as they offer a range of scalable pricing plans: for customers with differing requirements.
Picturepark's pricing overview offers information at-a-glance and the opportunity to compare each price plan. For those that want to study the pricing structure in-depth, contrasting specific usages and possibilities, Picturepark also has a detailed pricing plan which features an FAQ.
Naturally, when looking to purchase a content management solution, many potential customers want to get a 'hands on' experience first. As a result, Picturepark offer this ability in two different ways. Firstly, in an online demo; ideal for experiencing the UI and exploring potential. Secondly, a personalized demo is also available, where the full potential of the platform can be explored and explained, thanks to the step-by-step guidance from the business development team.
How does one start to use Picturepark?
Picturepark is fundamentally agile in design: a key philosophy of the company is that, the usage of its platform should be versatile enough to grow naturally.
The idea being that each organization which uses it has different aims and needs, which means they grow at different speeds too. As a result, Picturepark can initially be used quickly, with only a little initial time investment required; in order to address the uses which are most pressing.
Then, once these needs have been met, it allows for organic growth whether it is steady or rapid, as content. userbases and usage become cultivated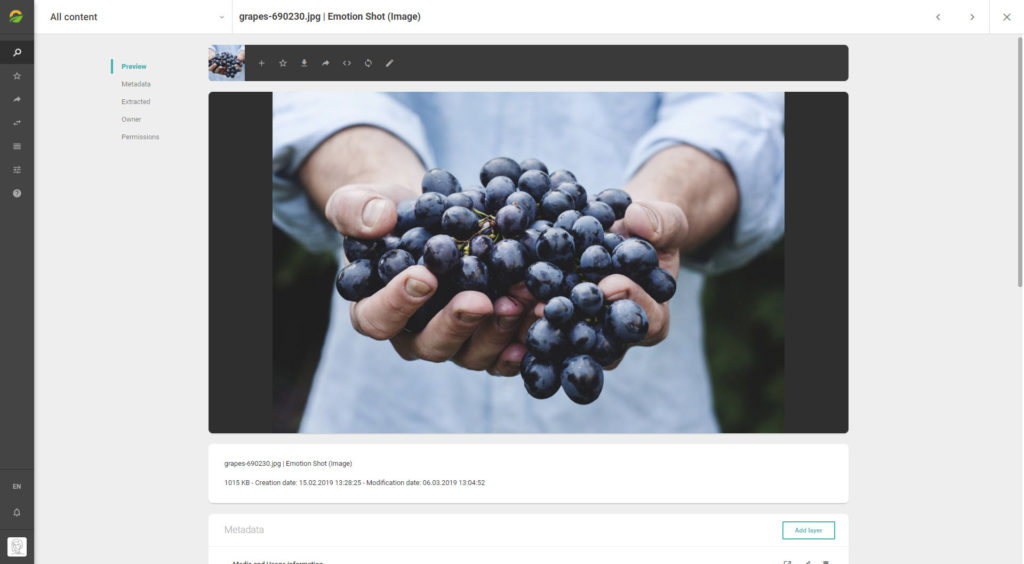 Another key philosophy of Picturepark is the importance of being 'strictly structured'.
What this concept means is simply that it is highly important to have fundamentally structured data, with consistency at its core. This is because data models which are strictly structured from the 'ground up', i.e. as soon as one starts to use Picturepark, saves massive amounts of time and effort further 'down the line'.
As a result of data being strictly structured, customers benefit enormously as rapid scalability is possible and the doorway is opened, for easy distribution to different platforms; of which many require a specific structure of their own.
After two decades of being the world's first cloud-based DAM solution, Picturepark now dedicates itself to focusing solely on its cloud offering.
Also of note for those with a particularly risk averse mindset is that layered on top of Picturepark's already good standard of cloud security, customers can also purchase their Suisse Safe package as an optional extra, delivering a high level of back-up protection.
How does Picturepark fit in a marketing stack?
Picturepark can sit at the centre of a marketing operation as a distribution platform: feeding content to a diverse range of sources.
As the platform is built API-first, utilizing the API for a range of uses is straight-forward and content can easily be sent to content portals, ecommerce sites and many third-party platforms.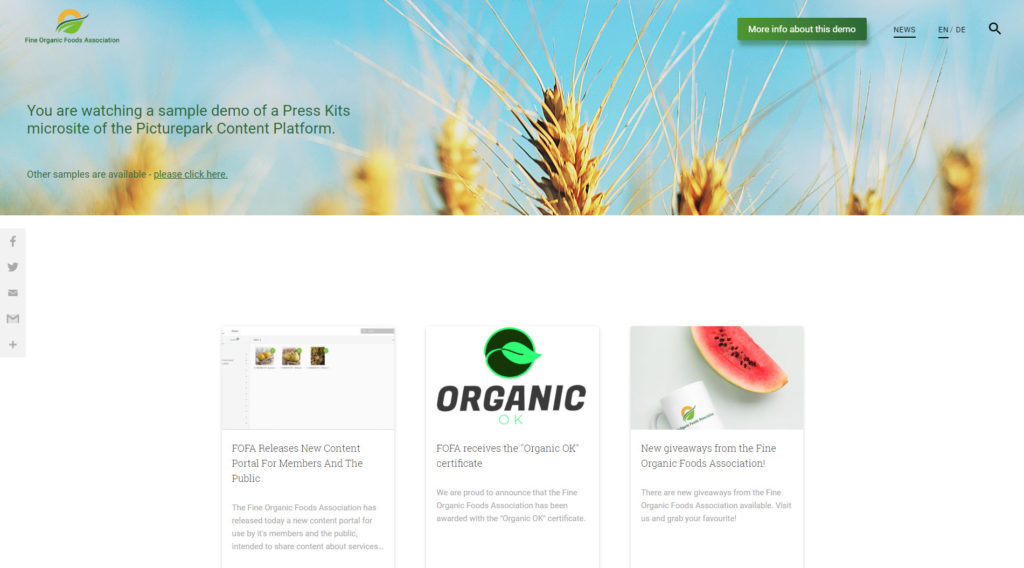 As well as featuring a state-of-the-art API for building upon, there are already multiple 'ready-made' connectors which integrate Picturepark into other platforms and programs.
These connectors make life much easier for marketing teams: enabling them to integrate into their pre-existing marketing stack. Examples include Microsoft SharePoint for collaboration or the Adobe Creative Suite for creating visual media.
As marketers frequently work with external organisations, this will of course regularly involve sharing content with those outside their organisation. Picturepark make this process easy, as embedding content or emailing it, along with an easily defined expiration date can all be done in just a few clicks; while ensuring that copyright usage is properly observed.
What's on the roadmap for Picturepark?
Picturepark have stated that they will be further investing development time and innovating their BPE (Business Process Engine) further: especially in regard to ease-of-use and accessibility.
The engine, which was launched in 2019, allows workflows and third party tasks to be easily triggered by what are referred to as business rules: using a user specified condition being met.
Examples of use include automatically tagging content or flagging sensitive content for review, connecting related content automatically as well as normalizing and syndicating content and data for omnichannel use..
In a nod to its Swiss heritage and company culture, Picturepark marked 2020 as the year it started naming each of its software release versions after a Swiss mountain! Expect more mountain names in the future, each with new improvements, from the company that is proudly #SwissMade.
For more detailed information about Picturepark, you can get in touch with them directly.