What is 42matters?
42matters is a leading provider of mobile app intelligence and app market insights. It offers a holistic overview of the mobile app ecosystem via a unique set of useful file dumps, APIs, and the 42matters Explorer, an app market research tool. This includes insight into Google Play, the Apple App Store, Amazon App Store, Tencent Appstore, AppleTV tvOS App Store, Amazon Fire TV, and the Roku Channel Store.
Headquartered in Zurich, Switzerland, 42matters serves customers operating across a wide range of sectors — from software development, to advertising technology, to security, and everything in between. Companies like Unity3D, Twitter, and Nvidia rely on 42matters to monitor app store trends, identify new market opportunities, and keep an eye on their biggest competitors.
42matters' tracks several thousand metrics for 15+ million apps, including publisher details, app metadata, technical insights, and more. Here's what 42matters tracks:
3.4+ million published Android apps, 7.2+ million unpublished Android apps, and 760,000+ Android app publishers
1.7+ million published iOS apps, 2.1+ million unpublished iOS apps, and 1.7+ million iOS app publishers
600,000+ apps and 130,000+ publishers on the Amazon Appstore
66,000+ apps and 43,000+ publishers on the Tencent Appstore
20,000+ apps and 5,000+ publishers on the Roku Channel Store
13,000+ apps and 7,000+ publishers on the Apple TV tvOS App Store
10,000+ apps and 4,000+ publishers on Amazon Fire TV
What are the key benefits of 42matters?
Simply put, 42matters' suite of products can be used by organizations for app insights. This means they'll be able investigate app metadata, publisher details, country-specific top charts, country availability, language options, categories, IAB categories, monetization, permissions, SDKs, app-ads.txt, and more. Additionally, this information can be accessed via API or downloaded as a CSV datasets and leveraged in an organization's own analyses, algorithms, or offerings.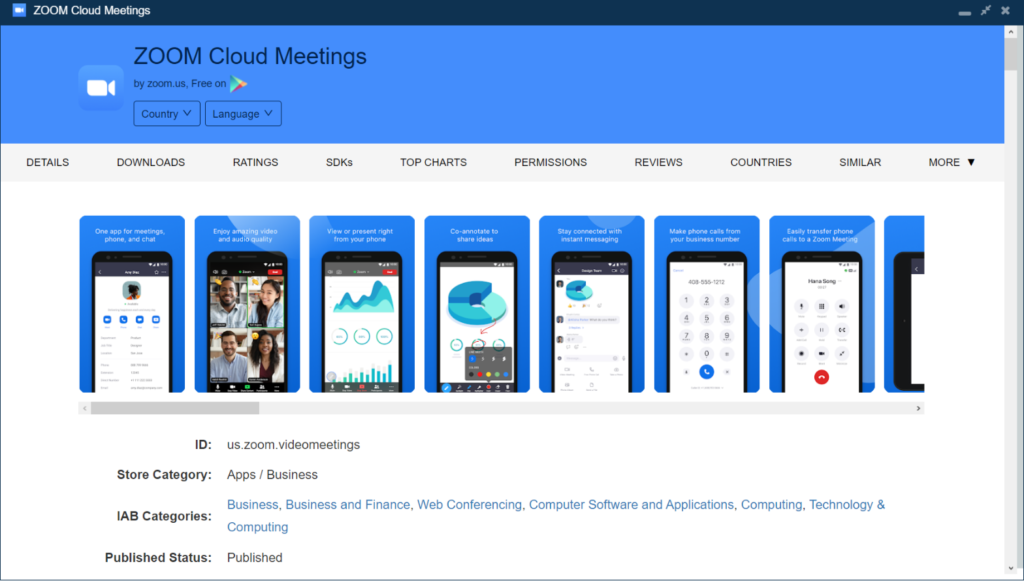 Of course, the kind of analytics that a business requires, and therefore the key benefits that they provide, depends on the nature of the business itself. To make sense of this, consider the following three examples:
App Publishers, Mobile Game Publishers, SDK Developers: Mobile app insights can be used to gain knowledge about user opinions and competitor activity. An app or SDK developer could use 42matters' to:

Compare daily and monthly downloads
Determine which SDKs rival apps integrate
Analyze reviews to determine what users like or dislike about their apps or their competitor's apps
See how competitors are monetizing their apps (via in-app advertising, in-app purchases, etc.)
Ad Networks: Along the same lines, app analytics can help Ad Networks bolster lead generation, boost mobile ad performance, and fight ad fraud. Ad Networks can leverage 42matters to:

Access app category, language, and localization data to define target markets.
See which apps are using competitor ad networks.
Access app metadata, classification information, and audience data to improve ad performance.
Analyze SDKs, permissions, changelogs, and app-ads.txt to prevent ad fraud.


Market Researchers: Mobile app analytics also facilitate market research by highlighting trends in the mobile app economy. And, due to the pervasiveness of mobile apps, it can also help market researchers understand other market sectors; finance, education, entertainment, gaming, sports, photography — you name it.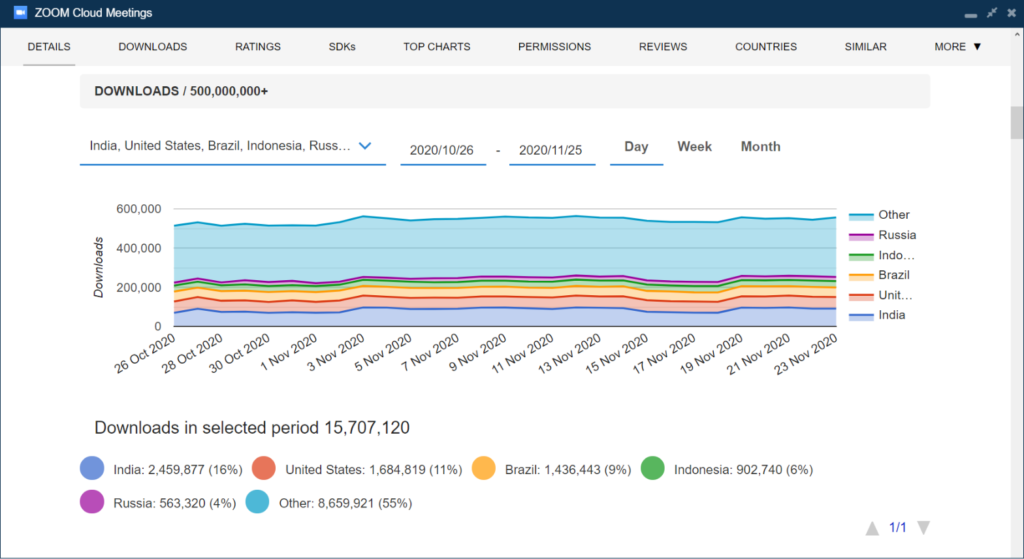 Who is using 42matters?
Broadly speaking, 42matters works with software developers, mobile advertising networks, cybersecurity companies, and research institutions (universities, market researchers, etc.). That said, this actually understates it quite a bit.
Indeed, while app publishers, ad networks, gaming studios, and SDK developers are the most obvious examples of software developers that require mobile app insights, 42matters can also help international brands, financial institutions, or government agencies bolster their digital presence.
Likewise — with regard to cybersecurity — 42matters can just as capably fulfill the app intelligence requirements of a corporate IT department as it can those of a company that designs mobile application management (MAM) and mobile device management (MDM) solutions.
So, the long and short of it is this. Mobile app intelligence from 42matters enables businesses of all types — regardless of vertical or industry — to make informed decisions that impact all departments, from development, to sales, and anywhere in between.
How does 42matters work?
42matters' file dumps are daily, weekly, or monthly datasets offering near real-time insights into Google Play, the Apple App Store, Amazon Appstore, Tencent Appstore, Apple TV tvOS App Store, Amazon Fire TV, and the Roku Channel Store. They are as follows:
App Details — Access detailed information for any app, including: name, description, category, pricing details, ratings, downloads, release dates, content localization, and more. View apps from Google Play, the Apple App Store, Amazon Appstore, and Tencent Appstore.
SDK Intelligence — View the SDKs and permissions leveraged by any mobile app. We track 2,500+ SDKs and hundreds of iOS and Android permissions.
Reviews Analysis — Access an extensive database of anonymized reviews, including advanced sentiment analysis.
Top Charts — View daily top charts for either Google Play or the Apple App Store.
IAB Categories for Apps — The Interactive Advertising Bureau's (IAB) content taxonomy offers a more precise alternative to Google's app categories and Apple's app genres. Access IAB category information for any app.
app-ads.txt for Apps — View app-ads.txt data for any app available on Google Play, the Apple App Store, Amazon Appstore, and more.
App Content Ratings — Access app content ratings by country for both Google Play and the Apple App Store. This includes content rating insights from ESRB (Americas), PEGI (Europe, Middle East), USK (Germany), Australian Classification Board (Australia), ClassInd (Brazil), GRAC (South Korea), IARC (Generic), and the Apple App Store Rating System.
In addition, 42matters offers a host of APIs. These can be used for Google Play, the Apple App Store, Tencent Appstore, and Amazon Appstore for relevant app data. 42matters offers the following APIs:
Lookup
Reviews
IAB Categories
App-Ads.txt for Apps
App Matching
Integrated SDKs
Search by Permissions
Advanced Query
And many more!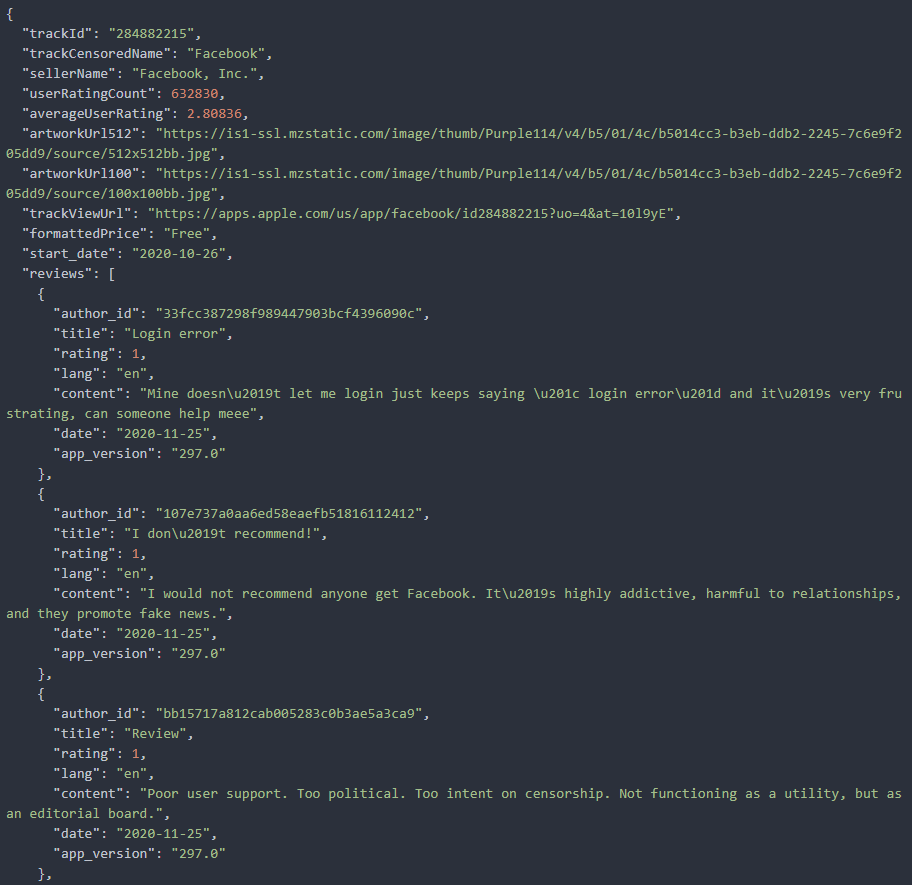 Last, but certainly not least, is the 42matters Explorer, an app market research tool that provides in-depth, visual insights into both iOS and Android apps available on Google Play and the Apple App Store.
How does your tool fit in a marketing stack?
Depending on the use case, the 42matters Explorer can be used to generate a list of app publishers leads. Since it tracks more than 2.6 million iOS and Android app publishers, users can leverage it to build target audiences based on particular customer profiles. This includes the ability to filter apps by such things as: developer name, category, country availability, supported languages, monetization practices, downloads, ratings, reviews, and even integrated SDKs.
Moreover, once a user has applied all the necessary filters, they can then export publisher information in a CSV file. As such, they can leverage publisher contact data (i.e. company name, physical addresses, email addresses, websites URLs, etc.) for account-based marketing (ABM).
Roadmap
42matters is always updating their products and offerings. Recently, for instance, they added a "Historical Downloads" feature to the Explorer, as well as a "Monthly Downloads" feature, a "Similar Apps" feature, 72 new app permissions, a "Top Charts" tracker for the Lebanese app market, and more.
In the coming months, 42matters intends to release a Downloads API and an SDK Explorer, while continuing to refine various aspects of the Explorer's user interface.
Pricing Model and Deployment
File Dumps — Near real-time file feeds of app data optimized for large-data ingestion.
Starting at €998.00/month
APIs — Programmatic access to mobile app data and app market insights.
Tiny: €79.00/month
Small: €249.00/month
Medium: €699.00/month
Large: €999.00/month
Explorer — Comprehensive app market research tool with visual data and insights; best suited for users without coding or software development experience.
Starter — €299.00/month
Professional — €749.00/month
Enterprise — €1,149.00/month
Add-ons — Customize and enhance your plan with additional features.
More users — by number of seats.

5 seats — €250.00/month
10 seats — €500.00/month
15 seats — €750.00/month

Tech support — €450.00/month
Historical data — by request.
Yearly billing — by request.
Contact Information
And that's 42matters, a leading provider of app intelligence and app market insights! If you would like to learn more about how your business can benefit from in-depth app analytics and comprehensive app market statistics, schedule a free demo with one of their experts!