What is NANOS?
NANOS is a Swiss startup, based in Zurich, composed of a dynamic and fast-growing team of machine learning specialists, engineers and designers.
NANOS team works in close collaboration with the Computer Science Department of the Federal Institute of Technology/ETH in Zurich.
Together, with experience and innovative ideas, they created an online marketing platform that allows everyone to create and place ads on Facebook, Instagram and Google in one simple interface in seconds.
With the following key features NANOS finally makes it possible for everyone to advertise online:
No marketing or design knowledge required from the users
Ad creation and placement will happen in less than 10 minutes
Ads will be placed on multiple platforms at once, without setting up separate accounts for each platform
Anyone can start from as little as CHF 5.-
NANOS targets and optimises the ad campaign automatically across multiple platforms on a daily basis
Accessible from anywhere – Nanos is mobile-first
Now anyone can advertise online
NANOS is therefore the perfect solution for anyone who does not have the professional knowledge, a huge marketing budget or just wants to save a lot of time on advertising while concentrating on other important things.
NANOS leverage machine learning algorithms to make online advertisements effective and accessible not just to marketing professionals and large brands but also to small businesses without large marketing teams and big marketing budgets.
The clients gladly share their success stories with you – get inspired and take your business to the next level with simple and effective marketing by NANOS.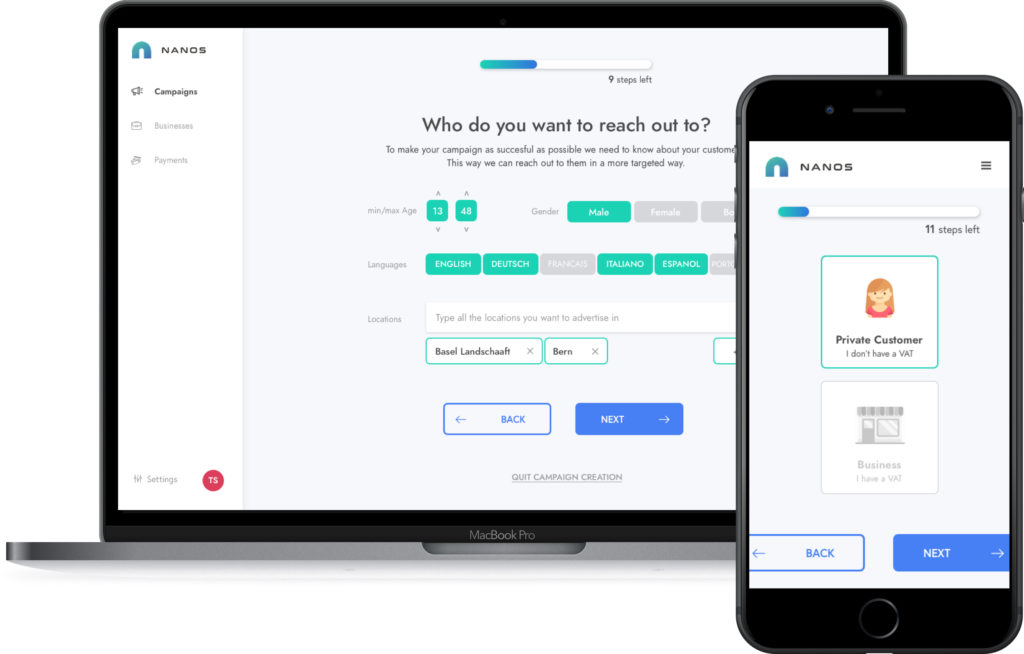 Start with as little as CHF 5
The NANOS pricing model is attractive for anyone who wants to be very flexible with their marketing budget – you can start with as little as CHF 5.- and there is no subscription fee for our service.
NANOS applies a 17% cut from the overall marketing budget of the ad campaign – for the services of creation ads, placement on multiple platforms at once and for the continuous cross-platform optimization during the life cycle of the campaign.
As of September 2019, there will also be a free platform to advertise any products or services called NanosAds.
Integrate with Google, Facebook and Instagram
NANOS makes the life of its customers drastically easier by combining the process of setting up accounts at various platforms (Google, Facebook, Instagram), by creating ads being automatically adapted to the restrictions of the platforms, as well as by continuous automatic optimization of their ads to make sure the ad is performing well everyday.
Users can immediately start placing ads in less than 10 minutes through our platform by just following a few guided steps.
This makes NANOS not just the ideal tool for non-expert users, but also for professionals and agencies in regards to valuable timesaving.
Furthermore, there is a chat support function and we additionally offer 1:1 super calls with NANOS consultants.
Using machine learning algorithms we automate most processes involved when someone wants to create and place an ad campaign on various platforms (Google, Facebook, Instagram, Nanos), with the tool being packaged in a very simple and intuitive interface.
Most important, it precisely targets the requested audience of our customers to make their marketing spend as effective as possible.
What is coming soon
With NanosAds, going live in September 1, 2019, NANOS has an amazing new feature coming up.
NanosAds will be a platform where advertisers can place ads for free and their potential customers can find them through Google organic search. Customers can then directly chat with the advertiser.
With this platform we are providing our clients a direct-to-consumer way to reach out and talk to their perspective leads.
Get Started with NANOS
In order to contact NANOS, you can either visit their website and chat with their team directly or send an email to contact@nanos.ai.