What is Scoutsss?
Scoutsss dialog is a web-based WhatsApp-like conversation management, 100% automated.
The conversational marketing revolution heralds a new era with personalized chatbot interactions. Continue chatting automatically along the Consumer Journey offers a completely new experience in marketing communication.
We help brands develop digital relationships with consumers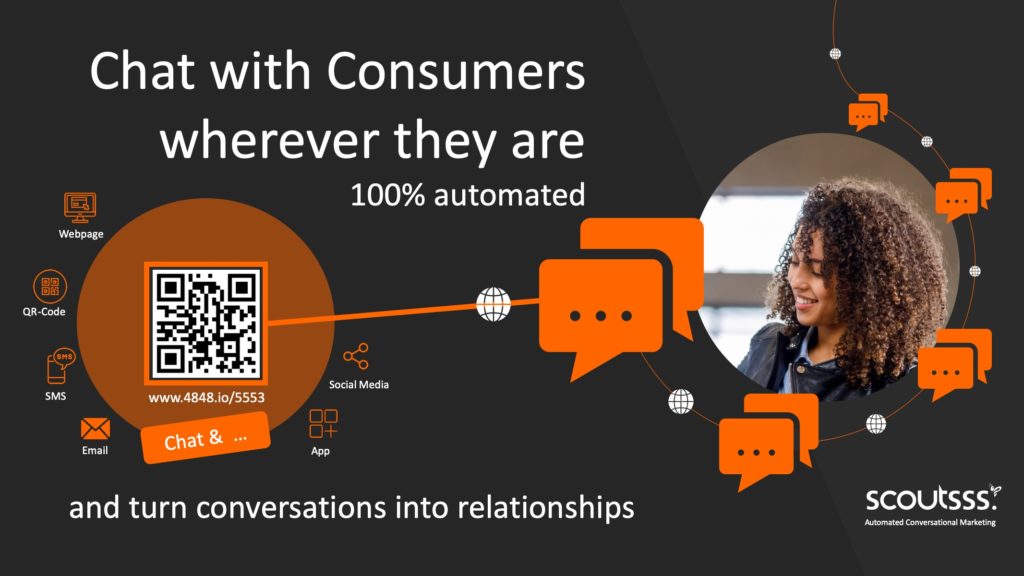 Imagine to interact with your audience wherever they are, 100% automated. Bridge the physical to the digital world, use games and rewards to engage with your audience. Scoutsss offers AI-supported services in automated conversational marketing.
The possibilities are almost unlimited, whether you create a conversational website with an almost natural interaction sequence or you start a chat to continue a real conversation to gather contact information or feedback. This new form of communication contrasts with today's one-dimensional practice, which is crowded with text on the smartphone and is correspondingly confusing.
How does it work?
Chat dialogues start with a QR code on products or posters, links via SMS, Facebook, email or as an interactive web page on the smartphone. It feels like a conversation on WhatsApp. Scoutsss chats are web based and require 0% staff.
Scoutsss provides a toolbox for creating chat-conversations together with an audience relations management. Whether as a brand, retail-store, FMCG, service or industry, training institute or public authorities, all have the need to interact directly with consumers on relevant topics: Gather feedback, provide learning content or product information in chats, amaze your customers and build loyal relationships.
With alerts, reports and action-loops you never lose track and with the web-based dashboard you manage all your conversations.
Why automated chats with continued conversations?
Delight consumers & continue conversations, 100% automated
Power up your sales, marketing & administration processes
Live a customer centric culture with marketing leverage
Create your chat-conversations within minutes
Scoutsss is available as a web-based software service (SAAS) on a subscription basis. This can be used in a do-it-yourself process, implemented as a project with digital agencies or CX consulting companies. The Scoutsss platform is multilingual and will be continuously expanded in line with the market requirements.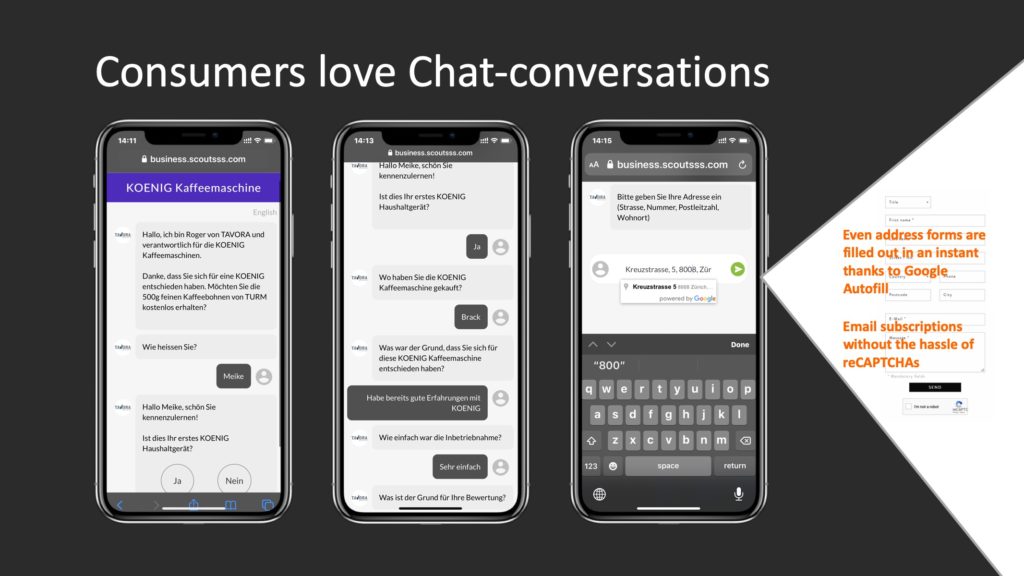 Getting started
Let us know your needs by clicking on www.4848.io/5553
We select the best module that covers your needs.
We create your account.
You, we or our partners will set up the chat-conversations.
Your consumers start chatting with you, 100% automated.
Pricing
Starting at CHF 79 per month
Brands love Scoutsss
There are already a lot of companies which trust on automated chat-conversations powered by Scoutsss. Please ask us to share use cases in your industry.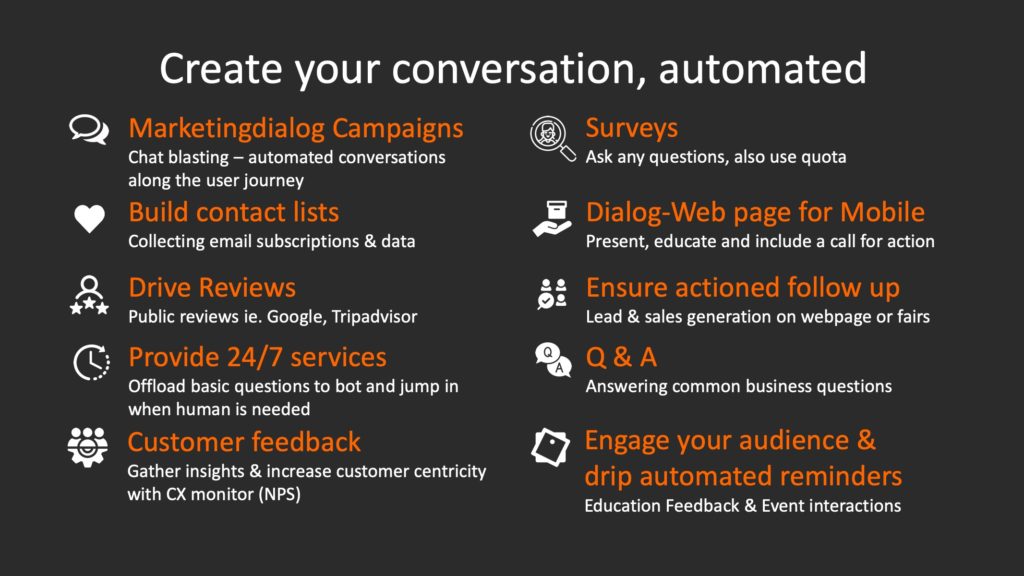 Roadmap
We are working hard to constantly improve and add new functionalities mainly in the areas of AI-support and to synchronize data with other services you might already have in use.
And … we are looking for partners.
If you are a digital agency or in the field of CX-Consulting, please contact us.
Chat with us
And click on www.4848.io/5553