What is Profity?
The principle of Profity is simple: We are a network of e-commerce companies and we give gifts to our customers.
If a user makes a purchase via a participating partner shop, they will be given the opportunity to select a voucher from another participating partner shop on the order confirmation page as a thank you. Thus, our partners receive additional traffic from a very online-savvy target group on a pure performance basis.
In Switzerland, Profity is already the biggest e-commerce-network with over 250 participating online shops. Currently, Profity is launching its network in Poland and Italy.
What are the key benefits of Profity
The key benefits behind the Profity services lie in a combination of a unique technology coupled with well over 250 advertiser offerings in a closed network impenetrable by outside search engines on a CPO basis.
Thanks to a dashboard, the advertisers are in the driver seat at all times when deciding their voucher campaigns.
Essential USPs for Digital Marketing Teams
Profity provides marketers a monthly audience of over 400'000 people. This audience is extremely online savvy making them very sought after.
Marketers get complete control of their voucher-campaigns.
Flexibility in starting and stopping campaigns.
Transparency provided thanks to a state-of-the-art dashboard.
A/B testing's possible and recommended to ensure the best possible results.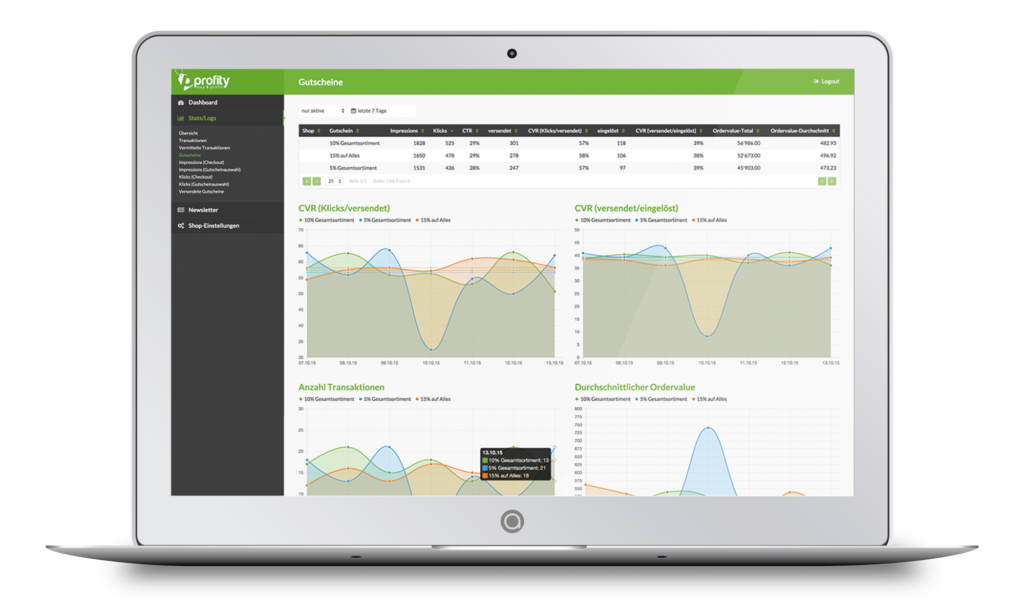 To become a Profity partner, the following bases figures are required:
A decent traffic numbers (above 20k UVs)
And professional shop appearance along with an attractive offering for the Profity network.
Some of the Profity partners:
Jumbo.ch, Manor.ch, Ochsner Sport, LeShop.ch, DeinDeal.ch, Nettoshop.ch, Melectronics.ch, Tchbio.ch, Geschenkidee.ch, Fust.ch, impo.ch, Sunrise, Livique.ch, Victorinox, Home24.ch and many more
An implementation done within 5 minutes
The implementation process is very straight forward and can be broken down into two distinct steps:
Step 1
The first step is about the set up of the tracking feature.
It will ensure that Profity can display all sales along with all major KPIs. This part takes minutes using standard TAG Manager systems, otherwise the integration can be made directly in the source of the order confirmation page.
Step 2
Then comes the visuals.
By adding a very simple script on the order confirmation page, it will allow a layer in the form of a gift box to be displayed to the end-users.
A simple pricing model
Profity charges CHF 4.50 per sale which was derived through the Swiss Network. All connected sales, vouchers sent appear in real-time in the client's dashboard.
For more information about Profity and its offering, please contact:
adfocus GmbH
Theilerstrasse 7
6300 Zug
Switzerland
E-mail info@profity.ch
Phone +41 44 508 34 17